What is Agile Scrum? Scrum overview for Agile software development
What is Agile Scrum? Scrum overview for Agile software development. Here we discuss in detail how agile scrum helps your organisation and the main components of scrum.
What is Agile Scrum?
Agile Scrum is a framework in which people can address complex problems with an adaptive approach. Therefore, this is achieved while creating productive and creative products of the highest possible value.
Scrum is:
Lightweight
Simple to understand
Difficult to master
Scrum is a framework within which one can design and implement various processes and techniques to manage complex projects. Hence, scrum makes clear the intended result of your product management and work techniques. So that you can continuously improve the product, the team and work environment.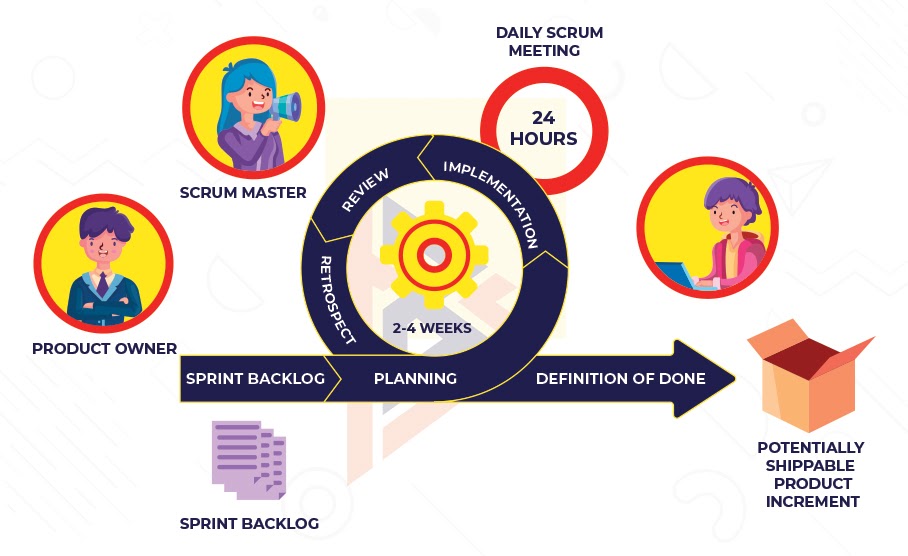 What Scrum framework consist of?
Roles
Events
Artifacts
And Rules
Thus, each component serves its own purpose for scrum's success and right usage.
What is the potential use of Scrum?
Scrum framework manages and designes products, and it is used worldwide for:
You can, Research and identify feasible markets, technologies and product capabilities;
Here, you can develop products and enhancements;
Also, you can, Release products and their enhancement as frequently and many times a day;
Here, you can develop a cloud (online, secure, on-demand) and other environment for product use;
Also, you can sustain and renew products.
Scrum develops software, hardware, autonomous vehicles, schools, government, marketing, operations. Also, almost everything we use in our daily lives as either an individual or as a society.
Since technology, market and other complexities and their interaction have rapidly increased, scrum has overcome them all and become the prior choice of many organizations.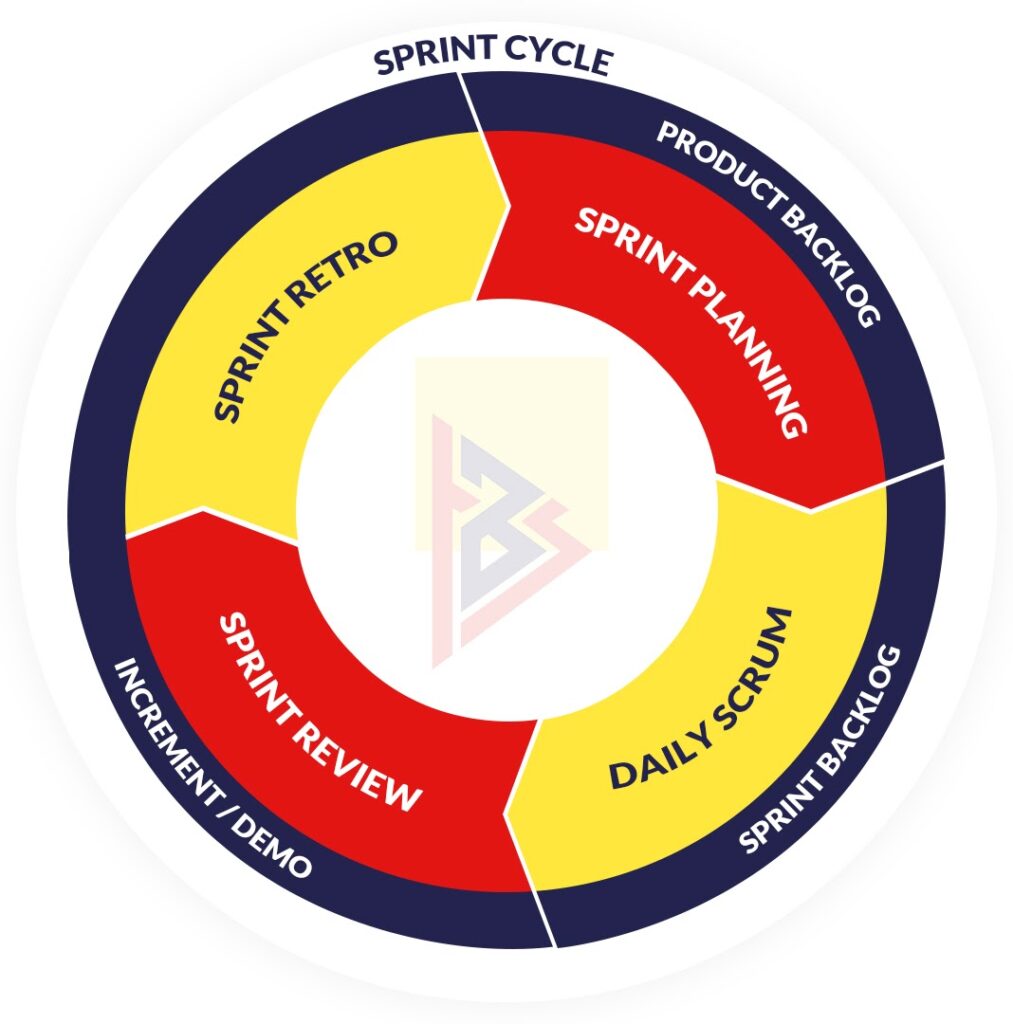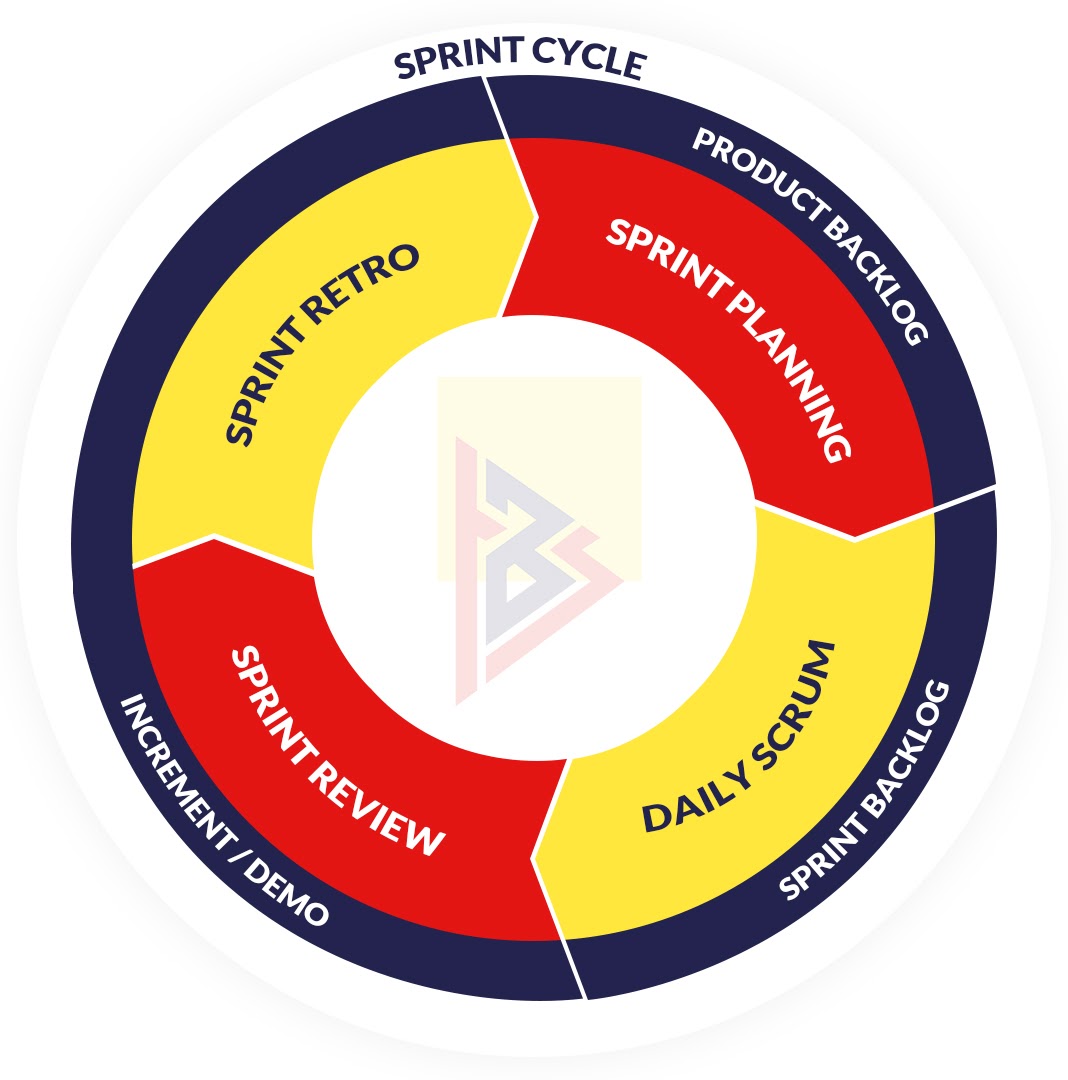 What is Agile Scrum Theory?
Scrum is laying on an empirical process control foundation. Therefore, the knowledge comes from experience, and making decisions based on the knowledge. The reason is the scrum is incremental and iterative to optimize predictability and control risk.
The Three pillars of empirical process control of Agile Scrum theory: Transparency, Inspection, and adaption.
Transparency:
Transparency is common standards and shared with observers. So that observers can share a common understanding of what can be seen.
All participants must share a common process.
Also, those who is going to work and inspect the increments must share a common definition of "Done"
Inspection:
Scrum team / users must continuously inspect scrum artifacts and progress towards sprint goal to identify undesirable variances. However, do not conduct inspection frequently that it becomes a way of working. Skilled inspectors performs it diligently.
Adaption:
If the observer realizes that one or more aspects of the process go outside acceptable limits. That may turn into product will be unacceptable, the process must be adjusted accordingly.
There are 4 formal events for inspection and adaptation:
Sprint Planning
Daily Scrum
Sprint Review
Sprint Retrospective
Values defined by Scrum:
Commitment
Courage
Focus
Openness, and
Respect
What Are Agile Scrum Roles?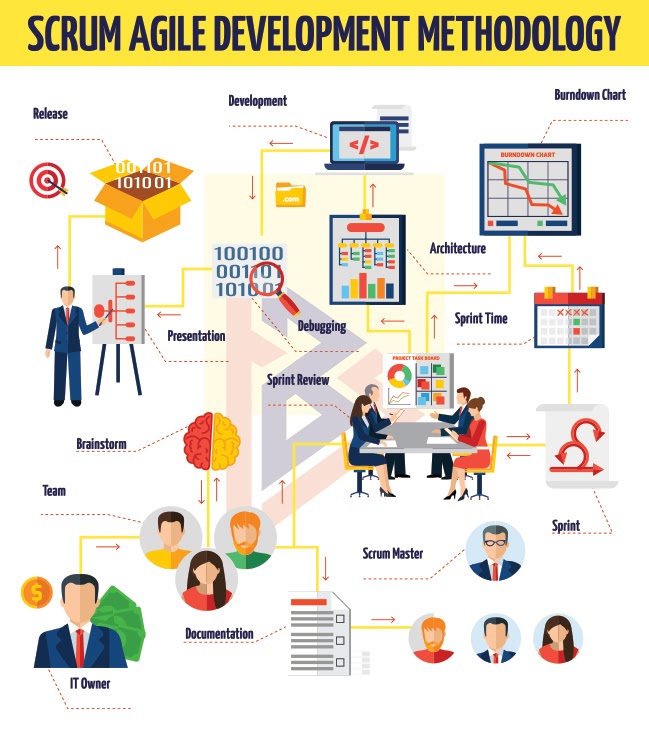 Scrum team consists of a product owner, the development team, and Scrum Master. The scrum team is self-organizing and cross functional. Self-Organized team chooses how best to accomplish the work, rather than being instructed by an outsider (one who is not a part of team) while cross functional team is having competencies required to complete the work without being dependent upon an outsider. However, the design of team structure in scrum optimizes flexibility, creativity and productivity.
Product Owner:
Clearly express product backlog items;
Also, orders the items in the product backlog to achieve goals and missions;
Optimizing the value of work the development team performs;
Also, ensures that the product backlog is visible, transparent and clear to all the team members;
Ensure that the development team is having complete understanding of the product backlog to the level needed.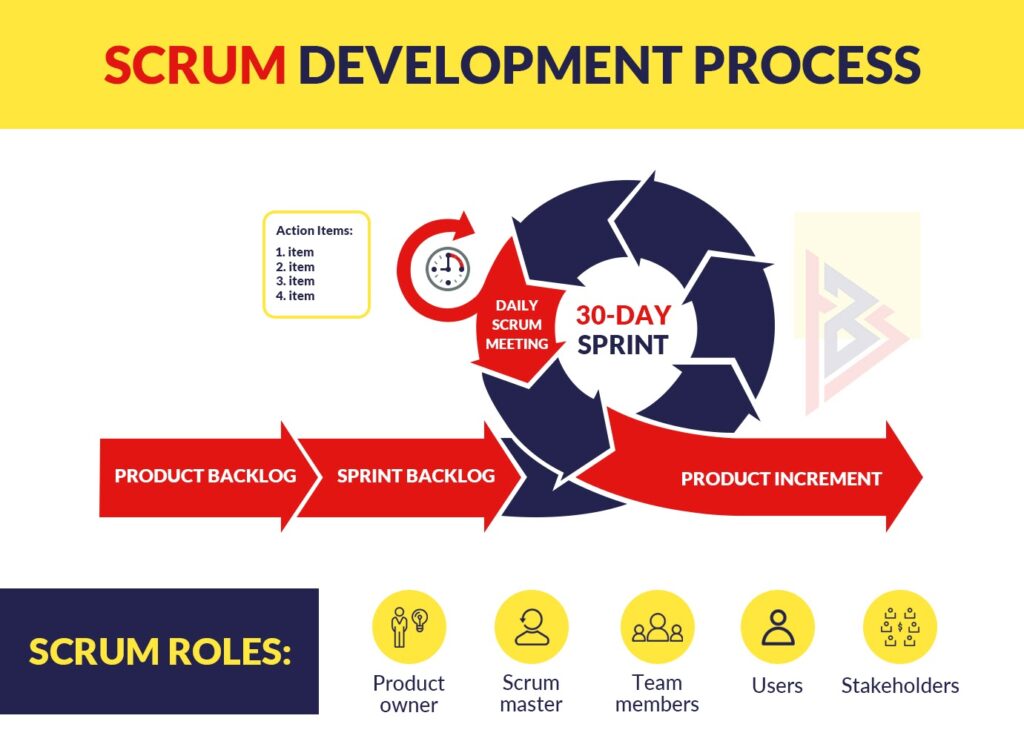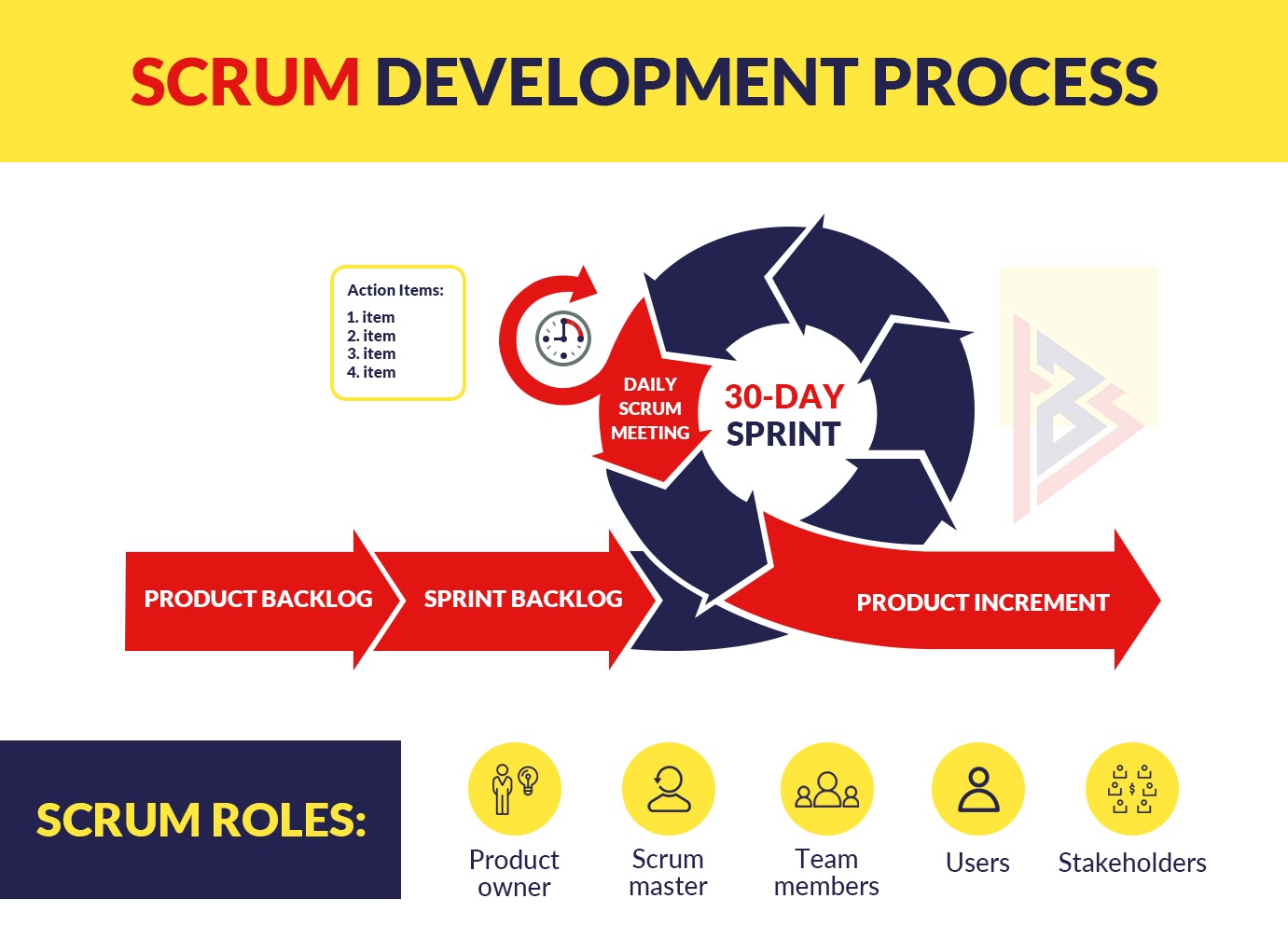 The Development Team:
The team is self-organizing. No one can instruct the development team how to turn product backlog into increments of potentially releasable functionality;
Development team is cross functional and has the required skills to accomplish the work within the sprint;
There will not be a sub team in the development team regardless of testing, architecture, operations and business analysis.
The Development team has unique skills and areas of focus, but they are yet accountable as a whole team not as an individual.
Development Team Size:
Development team size should be small enough to quick execute work within the sprint, and large enough to finish significant work within the sprint. Product Owner & Scrum Master are not part of development team unless they are executing sprint items by themselves.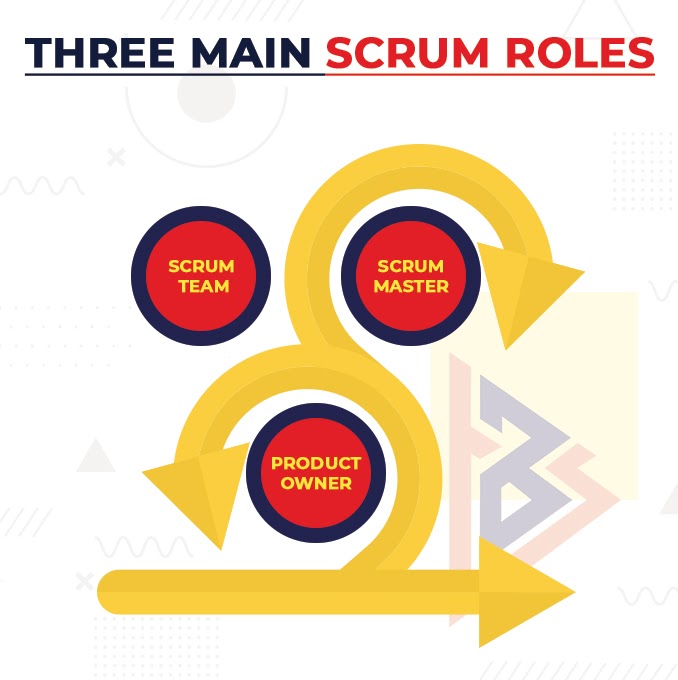 Scrum Master:
Everyone should understand the goal, scope and product domain;
Finding techniques to effectively manage product backlogs;
Helping team to understand the need for clear and concise product backlog items;
Ensure product owners must know how to arrange product backlog to maximize value;
Understand and practice agility;
Facilitate scrum events as and when needed;
Coaching development team in self-organizing and cross-functionality;
Help development team to create a high-value product;
Remove hindrances to the development team's process;
Learning and coaching organization in its scrum adaptation;
Planning scrum implementation within the organization;
Helping employee and stakeholders to understand empirical product development;
What Are Agile Scrum Events?
Scrum framework consists of 4 events which are time-boxed (Time bound), such that every event has a maximum duration. Once a sprint beings its duration becomes fixed and neither can be shortened or extended under any circumstances.
The Sprint
Sprint is the heart of Scrum and the entire process and teams revolve around sprints. Each sprint has a month or less duration within which a "Done", usable or potentially releasable product increment is created. Each sprint is considered as a project with no more than a month time duration.
During the Sprint:
No changes that impact the Sprint Goal
Quality goals do not decrease
As more learning happens scope is clarified and re-negotiated between the product owner and development team.
What is Sprint Planning in Agile Scrum?
The Sprint planning is a roadmap of executing sprints within the time-box. It is the collective effort of the entire scrum team. The time-box to a minimum of 8 hours for a one-month sprint.
Daily Agile Scrum:
For 15 minutes conduct Daily scrum meeting. In this meeting, the development team will plan the work for the next 24 hours. This will optimize team collaboration and performance, by inspecting the work from the last scrum meeting and forecasting upcoming sprint work. The Daily Scrum meeting happens same time and same place reduce complexity.
Discussion Agenda:
What did I do yesterday that helped the development team meet the sprint goal?
What will I do today that will help the development team meet the sprint goal?
Do I see any hurdles that prevent me or my development team from meeting the sprint goal?
Sprint Retrospective:
Sprint retrospective is an opportunity for the scrum team to inspect itself. Then to create a plan for improvements for implementing during the next sprint.
Agile Scrum Artifacts:
Scrum's artifacts represent work or value to provide transparency and opportunities for inspection and adaptation.
Product Backlog
The Product Backlog is an ordered list of everything that is known to be needed in the product. It is the single source of requirements for any changes to be made to the product. The Product Owner is responsible for the Product Backlog, including its content, availability, and ordering.
Sprint Backlog
The Sprint Backlog is the set of Product Backlog items for the Sprint, plus a plan for delivering the product increment and realizing the Sprint Goal. The Sprint Backlog is a forecast by the Development Team about what functionality will be in the next Increment and the work needed to deliver that functionality into a "Done" Increment.
Conclusion
Apart from an Overview there is a lot to it. TechnoBrains has mastered the scrum framework and using religiously to achieve great results. If you are tired of a relatively mid-sized project which has been running for years. You may contact us for agile scrum development. We will make sure we will streamline the entire process to enhance productivity and a great product at the end of the development process.
FAQ
How does Agile Scrum work?
It helps teams work together by providing them with a framework. Often described as an agile project management approach, scrum describes a number of meetings, tools, and roles that team members use to structure and manage their work.
Who attends daily scrum?
Development Team members are the only ones permitted to attend daily scrums. In order for it to be done correctly, they must do the work. As long as it is useful to the Development Team, the Scrum Master, the Product Owner, and any other stakeholder may attend as listeners.
Which is better Agile or Scrum?
The next step is to establish whether Scrum is the most appropriate Agile methodology for your project, assuming an Agile approach is right for you. Projects using Scrum are typically those that lack clear requirements, are likely to experience change, and/or require frequent testing.
Is Scrum Master mandatory in daily scrum?
Development team members attend daily scrums. Therefore, It is not mandatory for the Scrum Master to attend.