Top 10 Automotive Industry Trends 2023
Here's an insight into the digital trends driving the markets for the automotive sector. Create an experience such that entering the vehicle ceases to be a purpose to get somewhere and instead becomes a luxurious yet functional one. A smart automobile driving experience should be a desire rather than a necessity. Read on to find out the top 10 automotive industry trends for 2023.
Take advantage of this futuristic approach to boost your business if you are an entrepreneur in the automotive field.
Introduction
Customers experience superior service when they shop at Netflix, Amazon, or Booking.com. Transparent prices, easy access, and quick deliveries are the norm for customers on both online and offline platforms. Consumers expect the same experience with automobiles. Offering transparent car prices, providing in-car services with one click, and creating seamless online journeys, among other things.
These companies are doing well because they are building sales and business models that focus more towards their customers. The study reveals that these new market players are not keen on just selling cars but rather mobility services. These fascinating and user-friendly technologies are put to use by the automotive industry and its sub-branches. Thus, these automotive industry trends are going to be revolutionised in the years to come.
Manufacturers of cars, parts, OEM original parts, those in the transport and rental businesses, as well as those involved in shared mobility, can significantly improve automotive utility and customer satisfaction with the use of digital technology trends.
Read about the Best ASP.NET Tools To Build Mind-blowing Web Applications, here in our blog.
How has Electric Vehicle Adoption Increased Worldwide?
In the automotive industry, electric cars (EVs) are probably the biggest trend.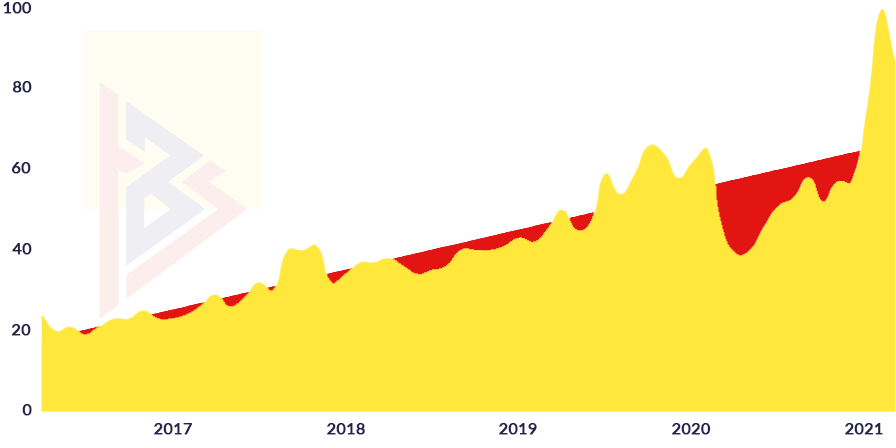 In the past five years, searches for "electric vehicles" have increased by 262%.
As of 2020, IEA estimates three million electric vehicles will be sold globally. About 4% of all vehicles will be electric. Source https://www.iea.org/commentaries/how-global-electric-car-sales-defied-covid-19-in-2020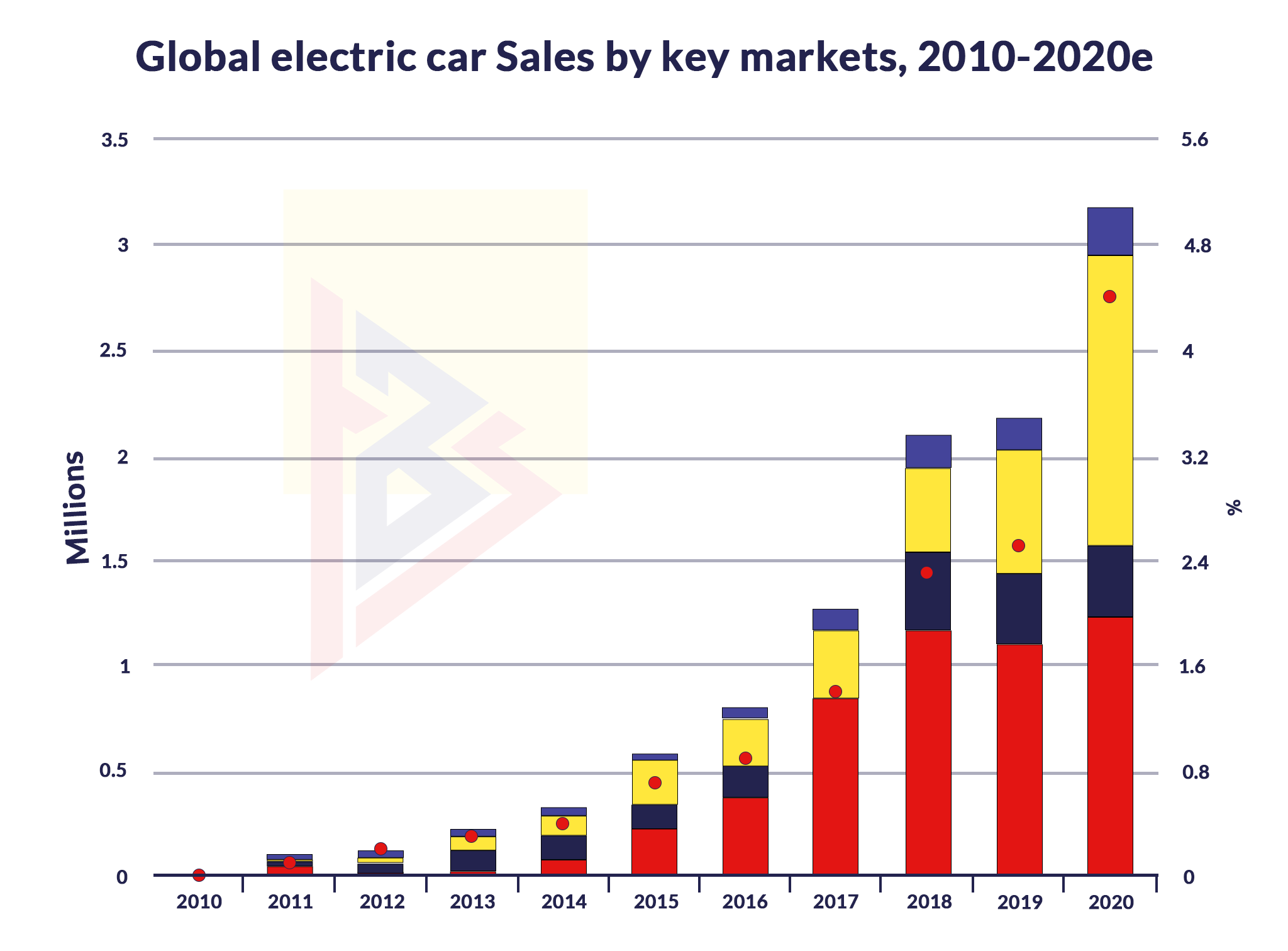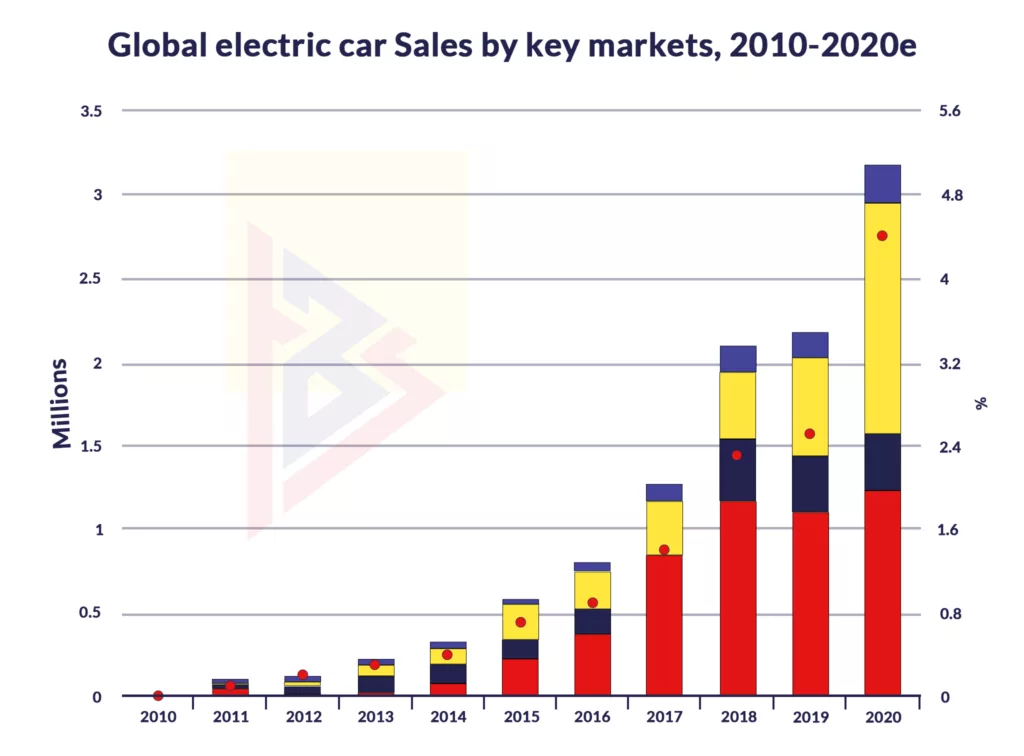 Over the last decade, more than 4% of all vehicle sales have been made up of electric vehicles.
2020 sales exceeded expectations, increasing over 40% over the previous year, following a disappointing 2019.


Consequently, the number of electric vehicles on the road has increased by over 10 million since 2016.
EV sales have grown most rapidly in China and Europe over the last five years.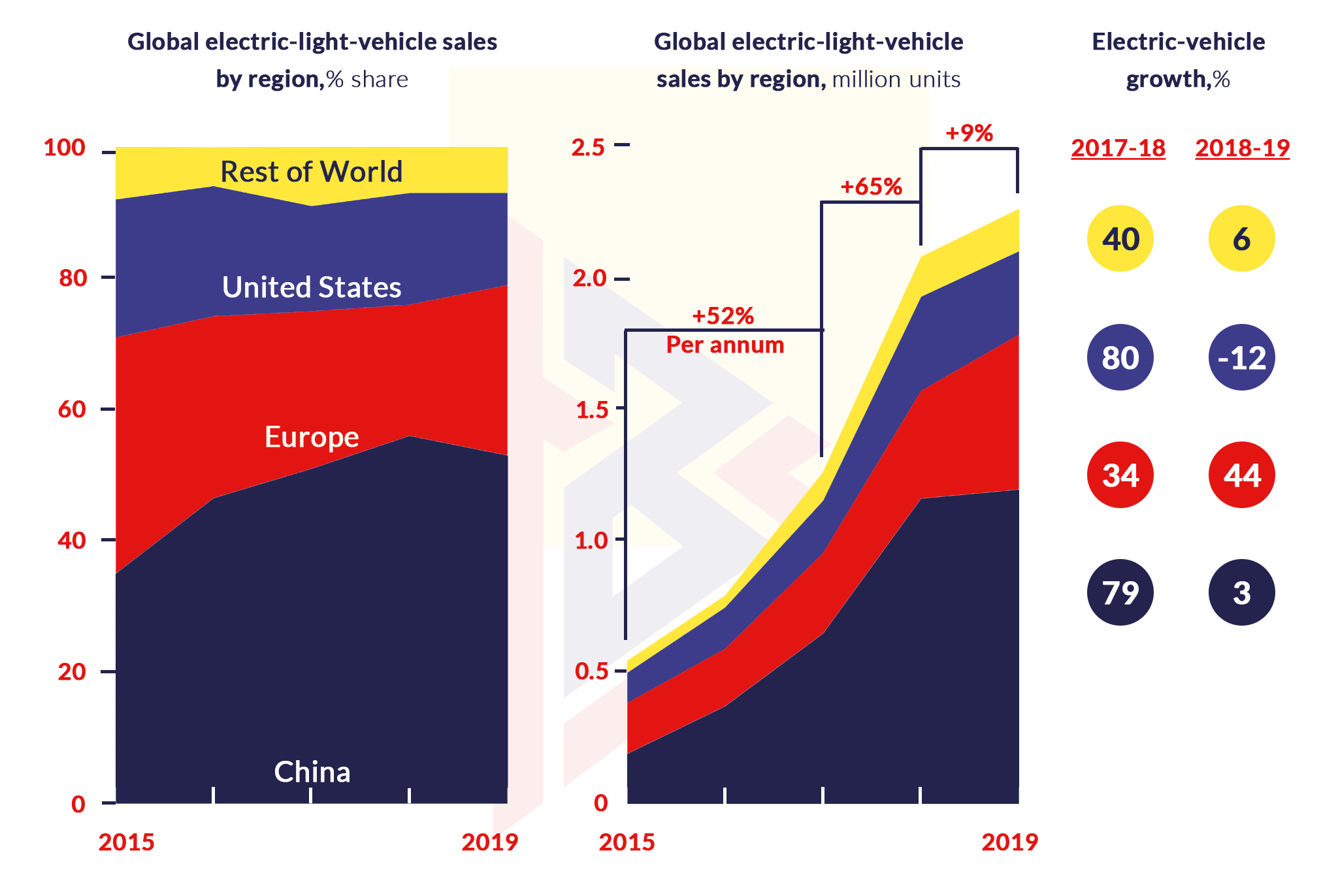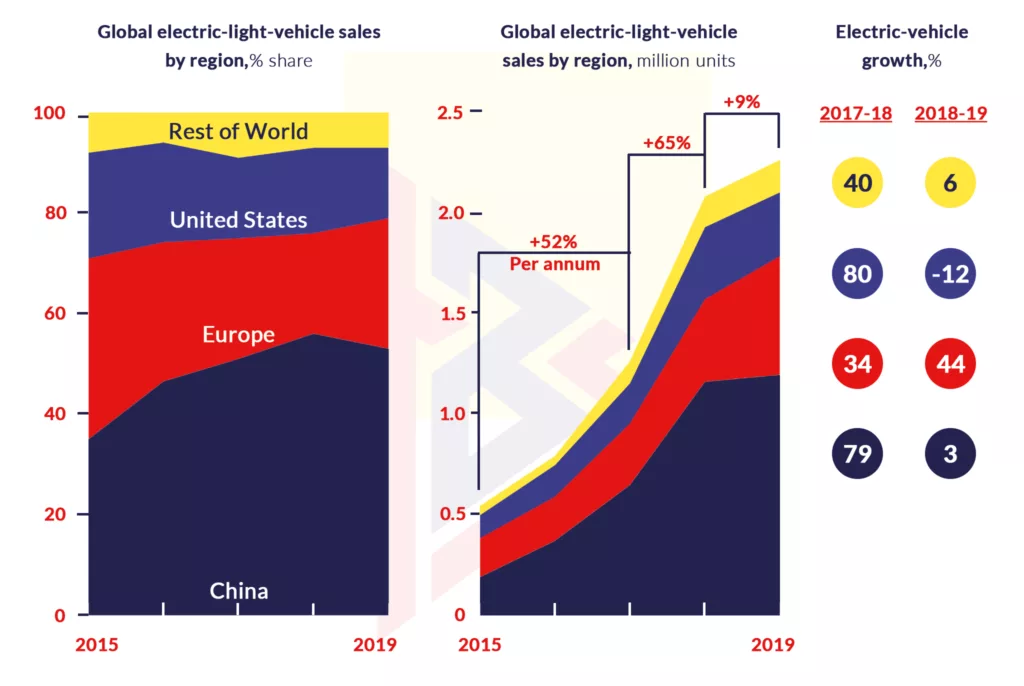 After the poor results of 2019, the U.S. lost some ground.
Its growth rate should keep it in contention for a bigger share of the global EV market in 2020.
Despite a 20% decrease in the total car market, BEV and PHEV sales increased by 137% in Europe in 2020, compared with the previous year. Plug-in electric vehicles have now overtaken cars produced in China as the world's largest market.
Searches for "plug-in hybrid" are up 4x since 2016. We won't see a slowdown anytime soon in this trend.
EV sales are expected to amount to 10% by 2025 and 58% by 2040 according to Bloomberg New Energy Finance. The percentage of EVs on the road is expected to remain at just 8% by 2030, despite this rapid growth. The world's vehicle fleet will undergo a massive rotation in the 2030s.
EVs are expected to make up more than 30% of cars on the road by the end of that decade. Regulations will play a large role in this growth.
Searches for "net zero" have increased by 112% since 2016.
Several countries (and California) have already committed to discontinuing the sale of all new combustion engine vehicles by the middle of this century.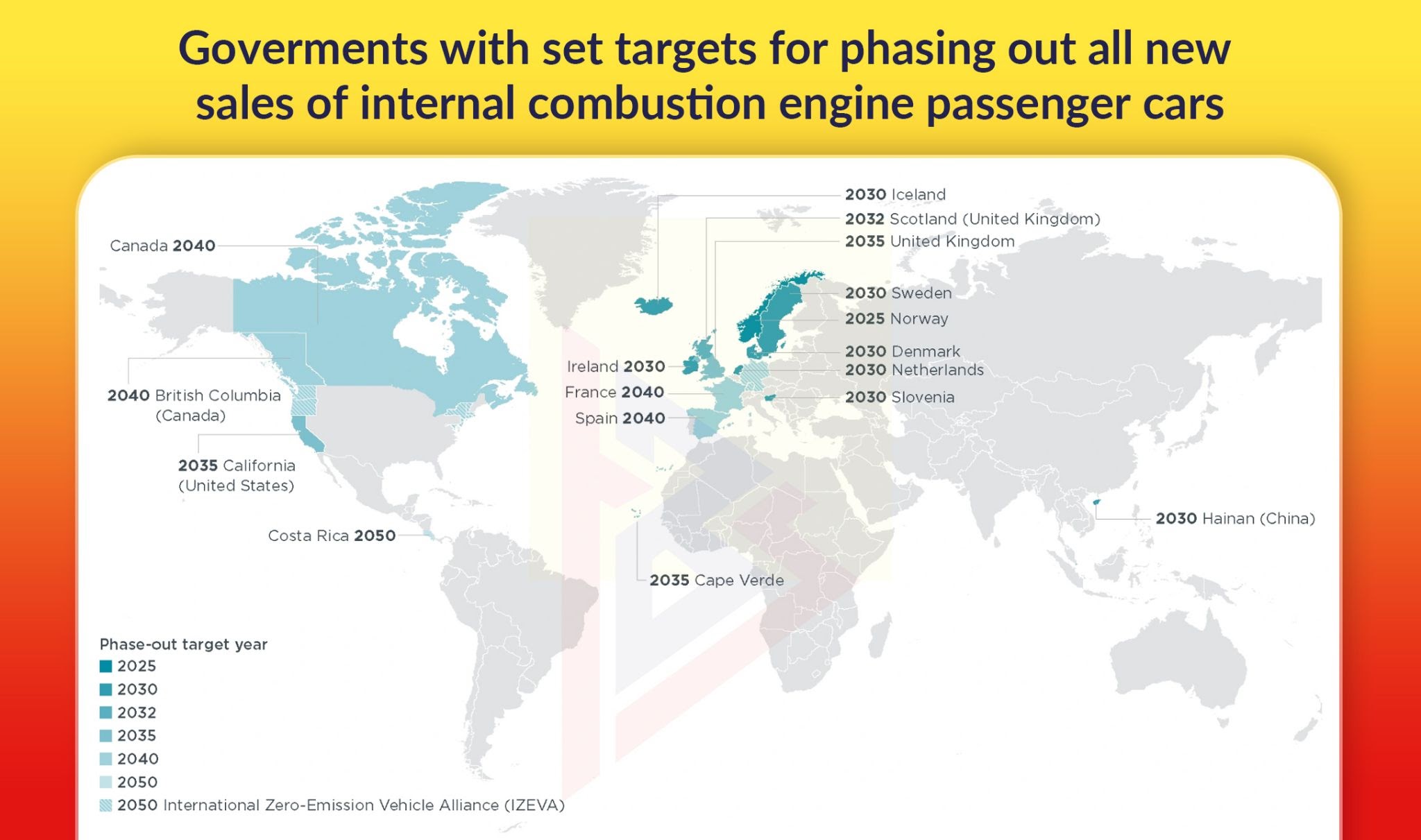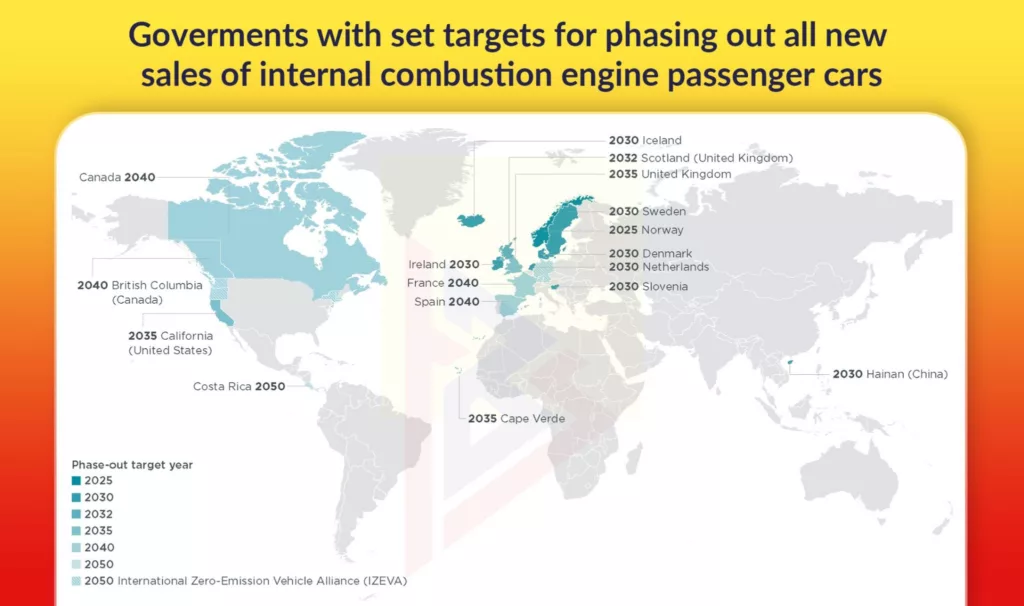 State and country commitments to phase out internal combustion engines.
By 2050, it is estimated that EVs will represent at least half of all new car sales to reach many of these net-zero emission goals.


Many authorities had predicted slower growth, but other initiatives might help. The introduction of EV charging infrastructure as well as improving battery efficiency can both spur adoption.
In 2020, lithium-ion batteries were priced at $137/kWh, a drop of 89% over the last decade. In China, the price of lithium-ion batteries dropped below $100/kWh for the first time. The number of EV charging stations across the U.S. is only about 41,047 at the moment.
Read why Golang is the best language for AI development.
It is estimated, however, that over 60% of all American households will have a garage fitted with a charging station. Also, EVs should have a longer range, which should alleviate concerns. EV range perception has been completely transformed by the 2020 Tesla Model S Long Range Plus. One charge allows it to travel over 400 miles.
A range of more than 500 miles is expected.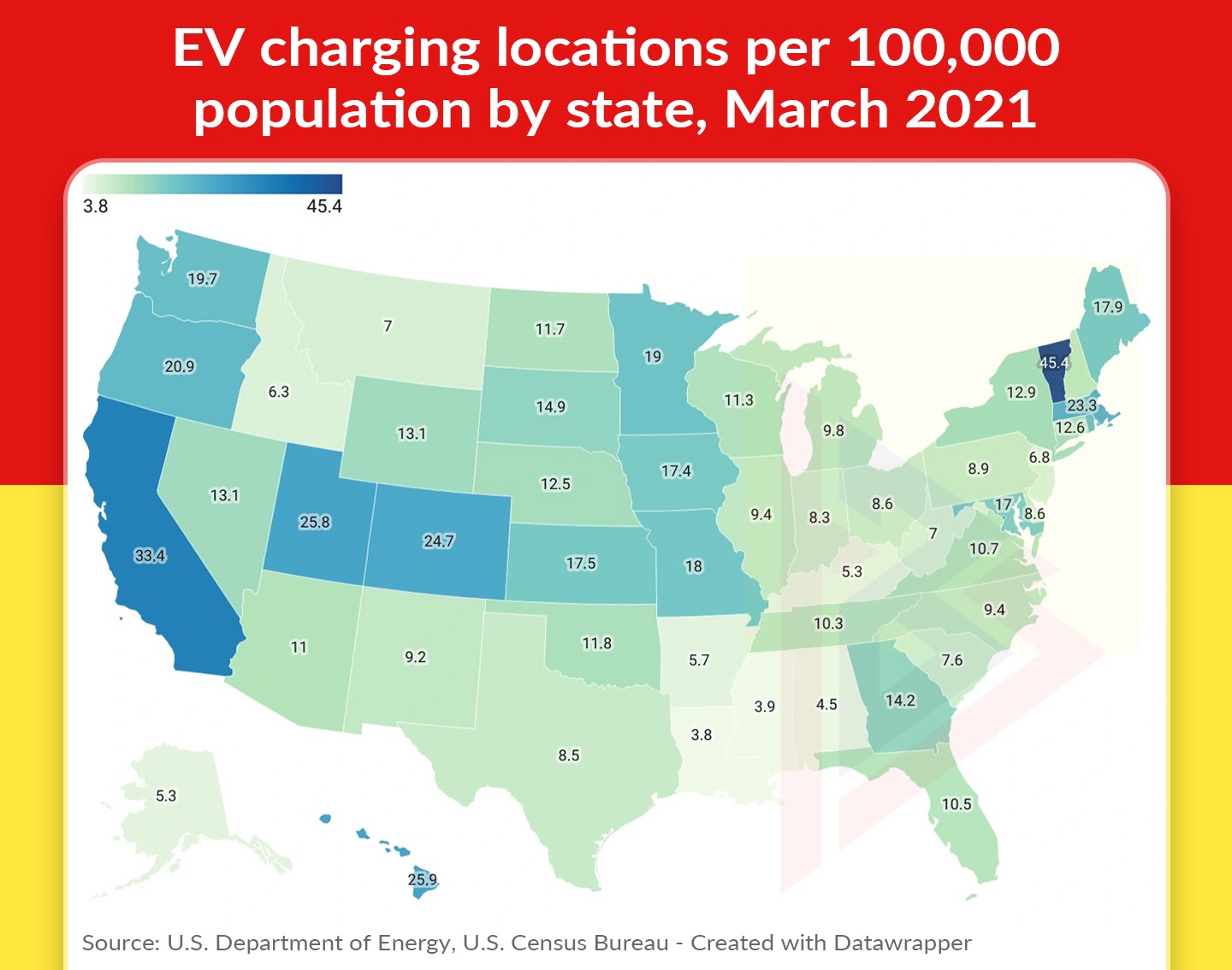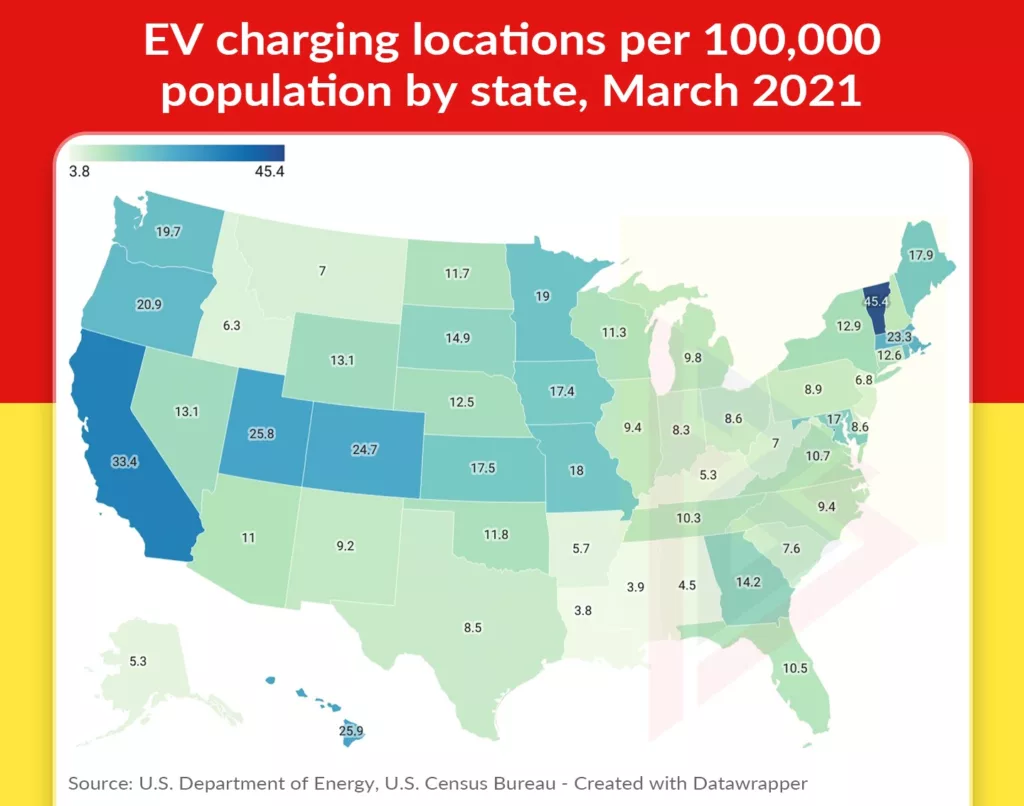 Further, Chevrolet, Hyundai, Kia, Nissan, and Jaguar are all introducing more affordable EVs with ranges between 200 and 250 miles.
Top 10 Automotive Industry Trends and Technologies
The automotive industry trends of 2023 are paving the way to keep up with other industries.
1. Artificial Intelligence
Discover robotic automation applications inside the future trends of the automotive industry using AI technologies including deep learning, machine learning, and computer vision. AI guides are autonomous or self-driving cars that assist in ensuring their safety, manage fleets, and enhance services for the insurance and inspection of vehicles. Further, artificial intelligence is used in automotive manufacturing to increase production rates and accelerate and reduce costs. 
In the automotive industry, chatbots are another great example of AI Development Solutions For Businesses and Enterprises. By reducing manpower and effort, along with serving customer needs, they can help bidders save time and money. The integration of connectivity aided by AI makes it easy to track vehicle data for several purposes, such as driver safety, fleet management, insurance, and predictive maintenance.
In addition to helping customers and repairing their vehicles, sharing or splitting the data also builds an entire mobility ecosystem. Autonomous vehicles and connected cars will have a dramatic impact on the automotive landscape, as we all know. Drivers will be able to communicate and interact with their cars in a whole new way.


Read which one should you select amongst Iconic and React Native for your next project, in our detailed blog.
The Human-Machine Interface (HMI) manages and operates the vehicles by using voice feedback. By using voice feedback, vehicles are now more controllable by users. Consequently, interfaces like these contribute to improved safety and enjoyment of driving.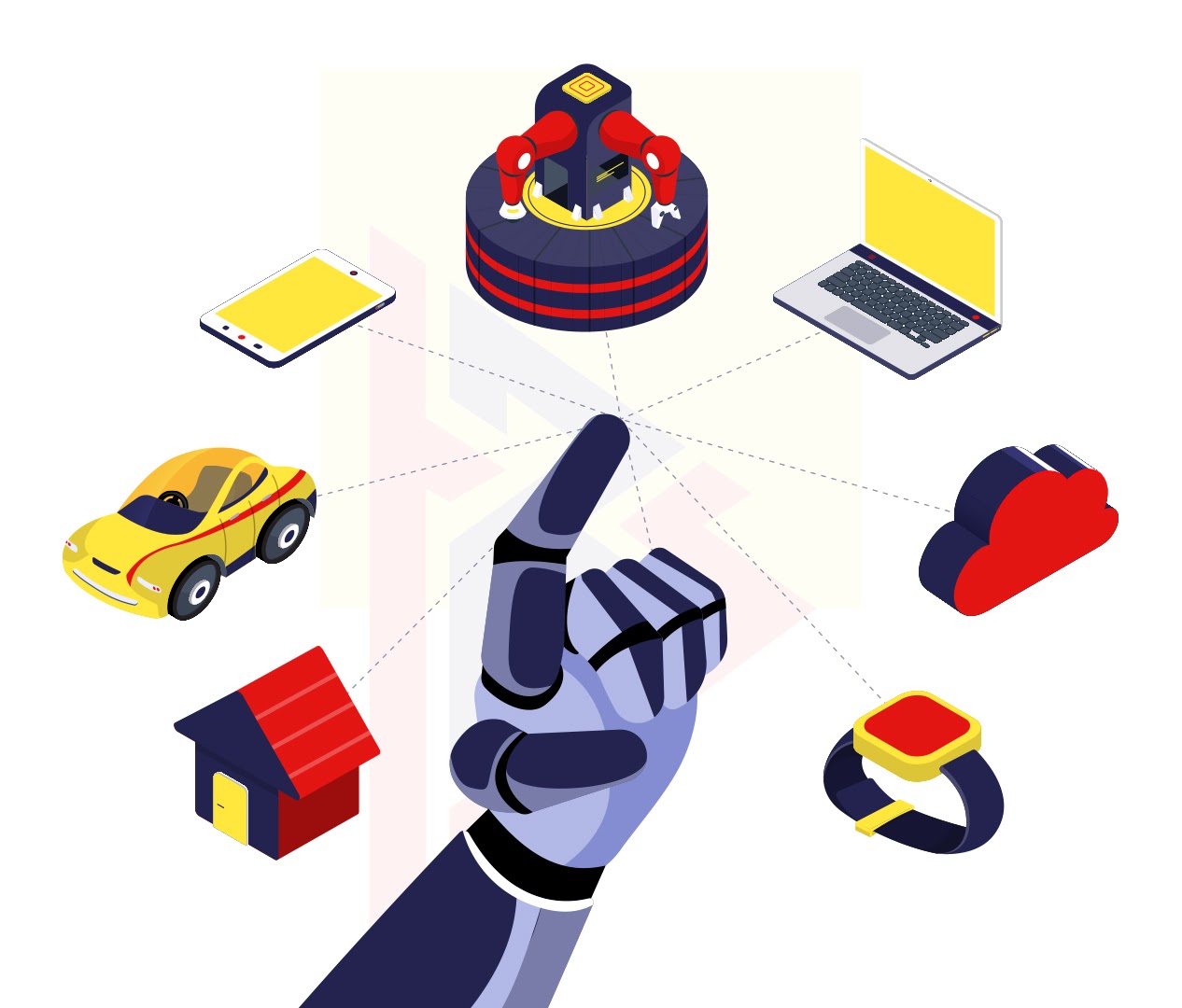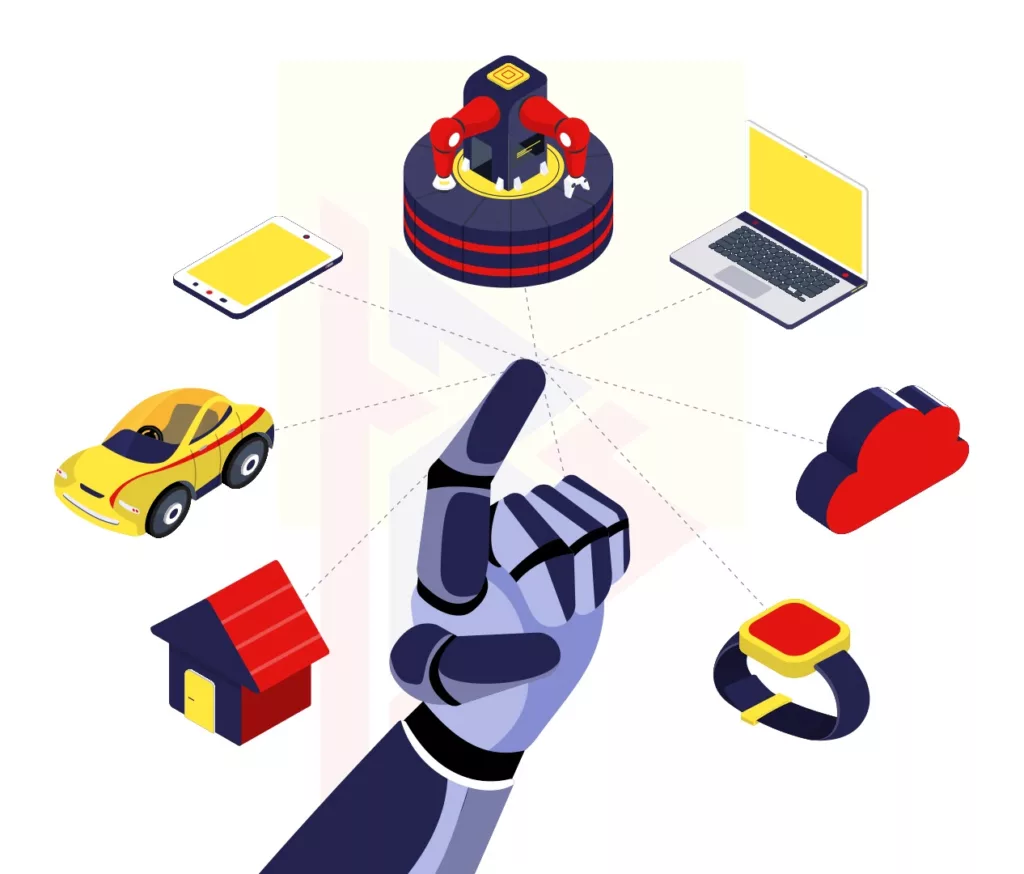 Examples:
RevitsOne: RevitsOne offers a fleet management service powered by AI suited for various fleet sizes and is a startup from India. Using the startup's vehicle management system, you can view running health data, speed information, and running vitals. A voice-based virtual assistant, Voicera ID, is a significant benefit to users of this solution. Additionally, driving at excessive speeds is discouraged by the onboard speed recorder.
Apex AI: The Apex AI startup allows automakers to incorporate complicated AI solutions.
For developing an autonomous mobility solution, the Apex OS is available as a reliable, secure, and robust API for automotive ECUs. The Apex autonomy platform also enables autonomous vehicle development and 3D localization capabilities. Let me conclude by saying that MARV will be useful. Data can be transmitted accurately and safely from a vehicle to the cloud with Automotive's extensive data management platform.
2. Autonomous Vehicles
Vehicles that drive themselves. Focusing on the simple goal of eliminating human driver requirements, they hope to mechanize daily transportation. By minimizing accidents caused by human drivers due to negligence, stocks of AVs serve to widen the scope of last-mile delivery, reduce overall downtime, and make the concept of transportation safer and more secure. AVs are equipped with advanced and latest technology to detect hurdles on the way, as well as obstacles along the way. This is the most raving automobile industry trend.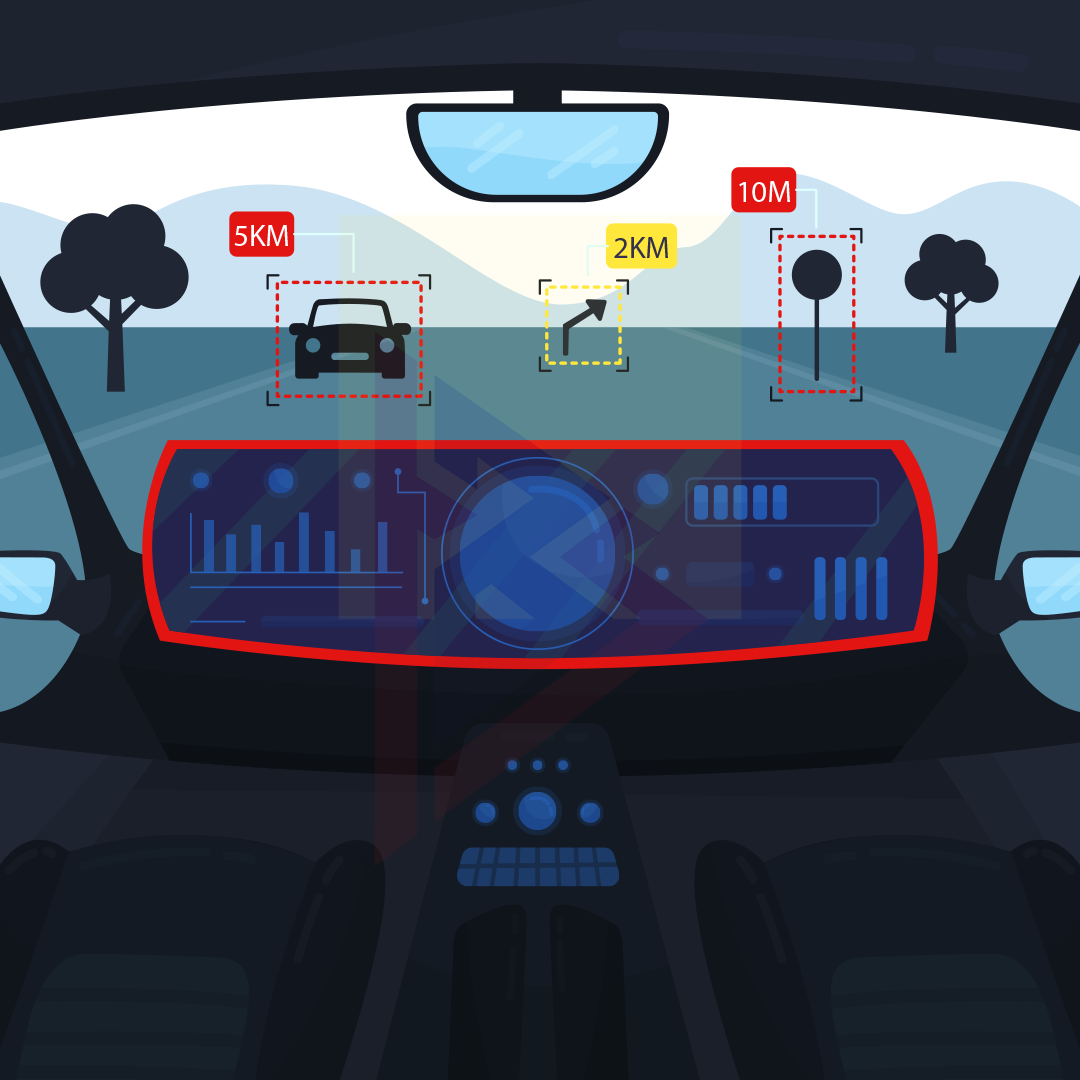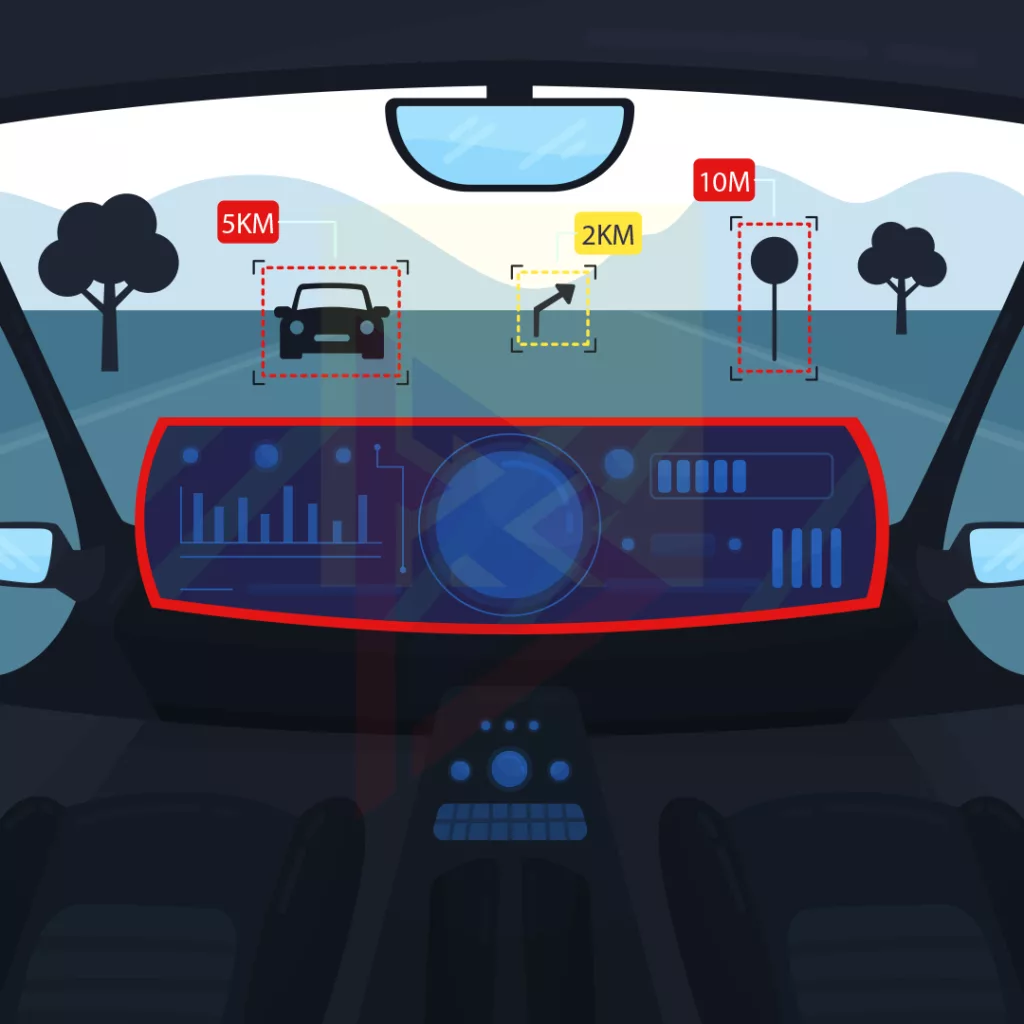 Examples:
Intvo: Itvo is an American startup that owns the technology that indicates pedestrian behavior. The 2D and 3D object observation technology analyzing restricted parameters determines a pedestrian's risk level by making sure that eye contact is maintained, the head moves appropriately, and his legs move as needed. Using this procedure, the risk of accidents gets minimum in autonomous vehicles and the level of safety gets enhanced.
Udelv: Undelv is an Autonomous vehicle startup based in the U.S., which offers last-mile deliveries with autonomous vehicles. Various situations can be assisted by human-assisted teleoperations alongside AI algorithms. Vans such as these have a speed of approximately 100 km per hour and can carry 360kgs in their payload. Using this innovative automated transportation system, customers are getting information when groceries arrive on their doorstep from stores nearby.
3. Big Data & Data Analytics
A vehicle's life cycle is informed by advanced data analytics when it generates big data. The optimal use of the data collected from the vehicles for predictive maintenance, to alert authorities in the event of an accident or emergency, and to notify fleet managers. Automotive manufacturers can determine their annual sales purchase and target production with the help of predictive analysis. Customers find that it improves supply chains, driving more sales, as well as increasing the design of upcoming new cars.
Read about the best ASP.NET Tools for development.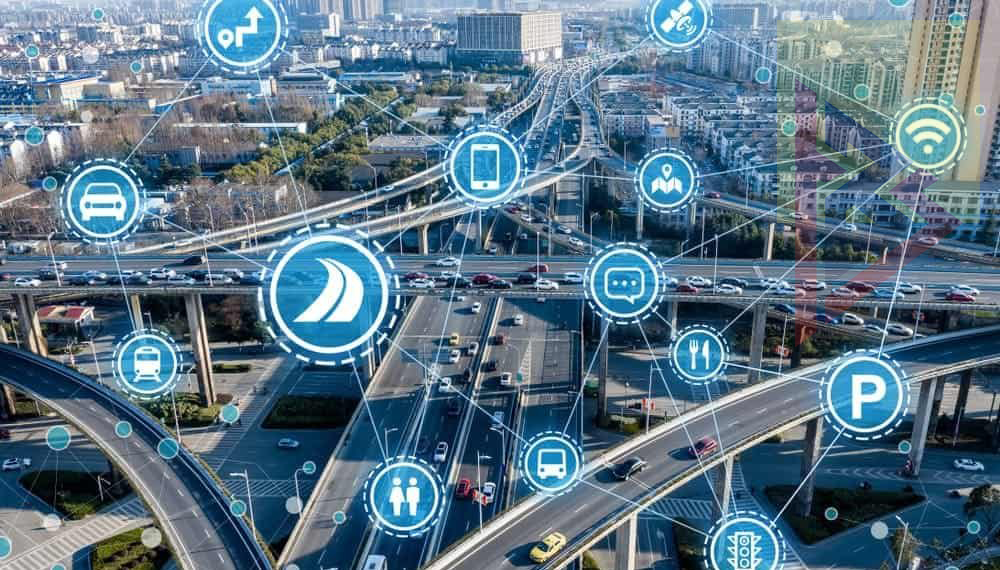 Examples:
Procon Analytics: US-based Procon Analytics offers a solution for automotive finance using big data. In real-time, the solution gathers millions of data points and inspects them for lending institutions to use immediately and reduce risk. BHPH dealers can use this company to expand their business and provide credit to high-risk customers. Aside from providing fleet tracking software, it also offers connected car solutions.
Unit8: In several industries, Unit8 provides digital solutions using analytics and big data. It advances a model that encourages automakers to improve marketing and operations, ultimately increasing revenue. As well as product pricing and build, these models show insight into after-sales service.
4. Blockchain
In the automotive industry, blockchains have a number of applications. There are few that share vehicle data to a secure network for connectivity and shared mobility apps like urban transportation and ride-hailing. Additionally, blockchain can confirm the supply chain of spare parts, ensuring the procurement from reliable, safe, and legal sources.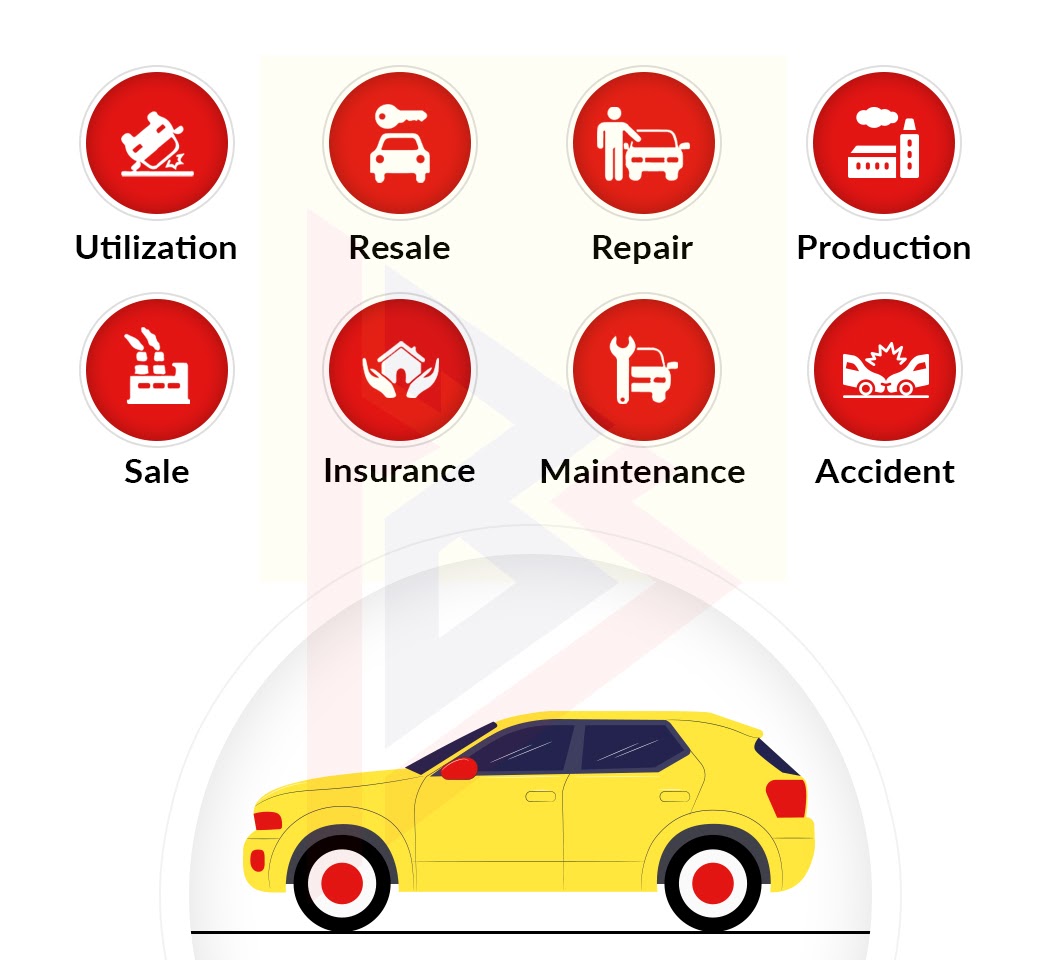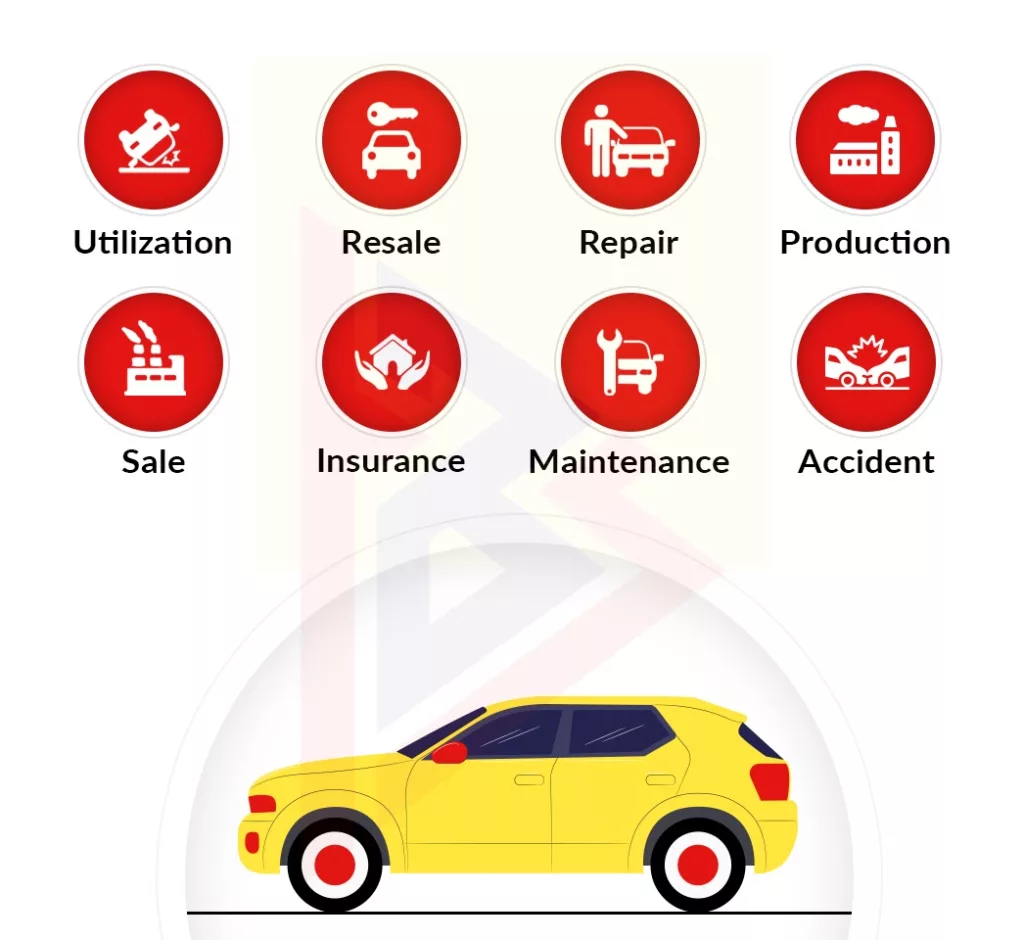 Examples:
Cube Intelligence: A British startup, Cube Intelligence, creates a security platform for autonomous vehicles based on blockchain technology. Prevent Hackers and malicious attacks on the basis of hash codes from hacking any autonomous car or connected car using hash codes. The use of real-time emission and mobility data collection applications. Cube Intelligence also provides valet parking services and ride-hailing services for AVs, in addition to smart parking management systems.
DAV: Israeli startup DAV provides a blockchain-based decentralized platform for autonomous vehicles. AVs can use this platform to locate other AVs, clients, and service providers. Smart contracts or DAV protocols enable vehicle-to-vehicle interaction on the blockchain. Rather, this startup develops specialized protocols to coordinate drone flights and open mobility.
Read about the Healthcare trends, here in this blog.
5. Internet of Things (IoT)
Throughout the vast automotive industry, the Internet of Things allows secure interconnectivity between vehicles, as well as within the infrastructure. It improves the safety of highways, reduces pollution, alleviates traffic congestion, and makes managing the fleet of vehicles more efficient, lowering energy consumption.
Emerging companies and startups are developing advanced sensors to collect data about vehicles. As a result, cars can learn about their surroundings and understand them better. Toll payments and fuel payments are automated through Enterprise Mobility App Development.


In-car apps can make use of the data collected by IoT to offer great value-added services to drivers. Driving data can be used in navigation applications to alert drivers of traffic hazards, hazardous road conditions, etc. by providing real-time information.
Nevertheless, automobile manufacturers must manage and handle software assets within their fleet in a reasonable and logical manner, which includes proper testing, the accurate deployment of software, and the tracking of deployments.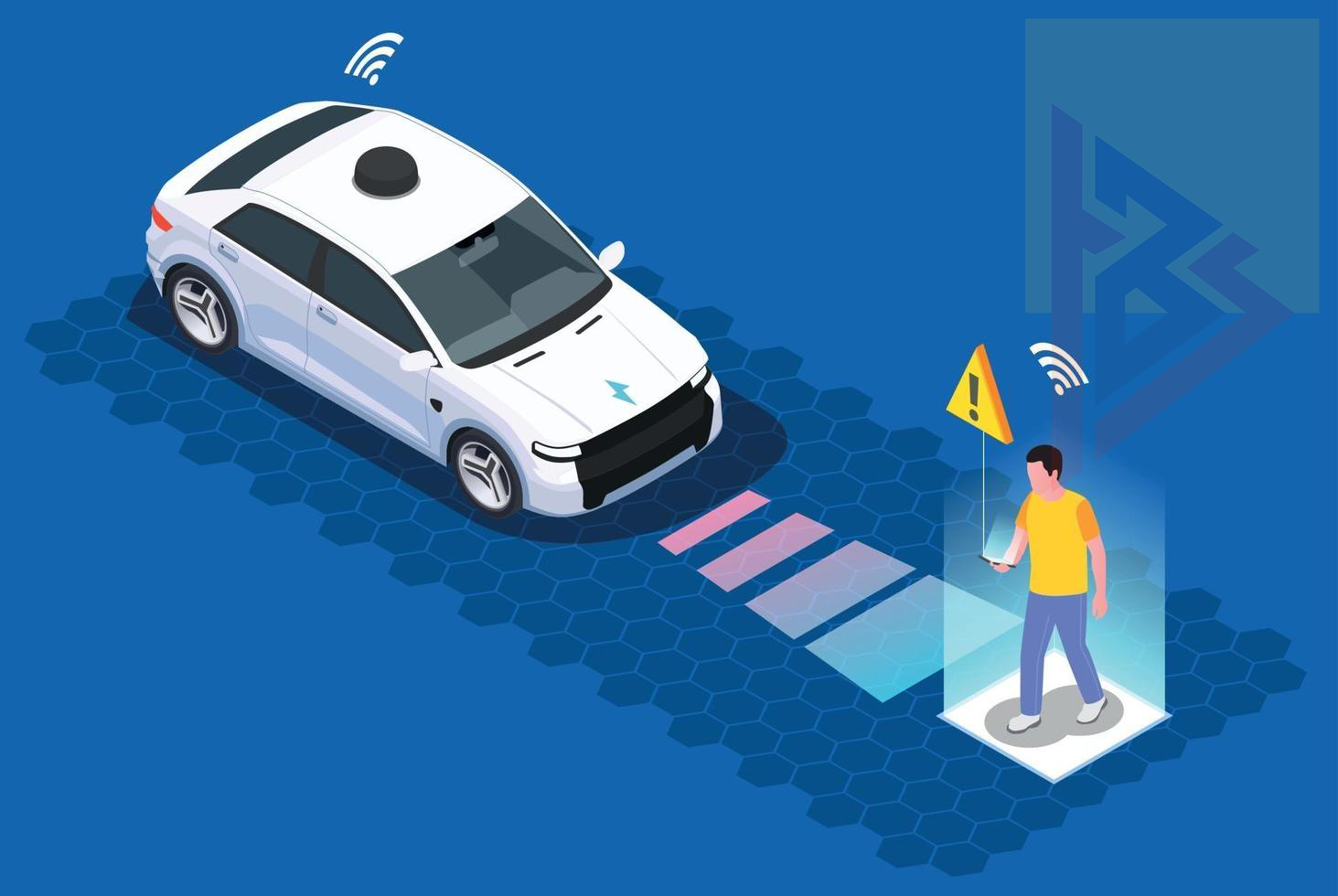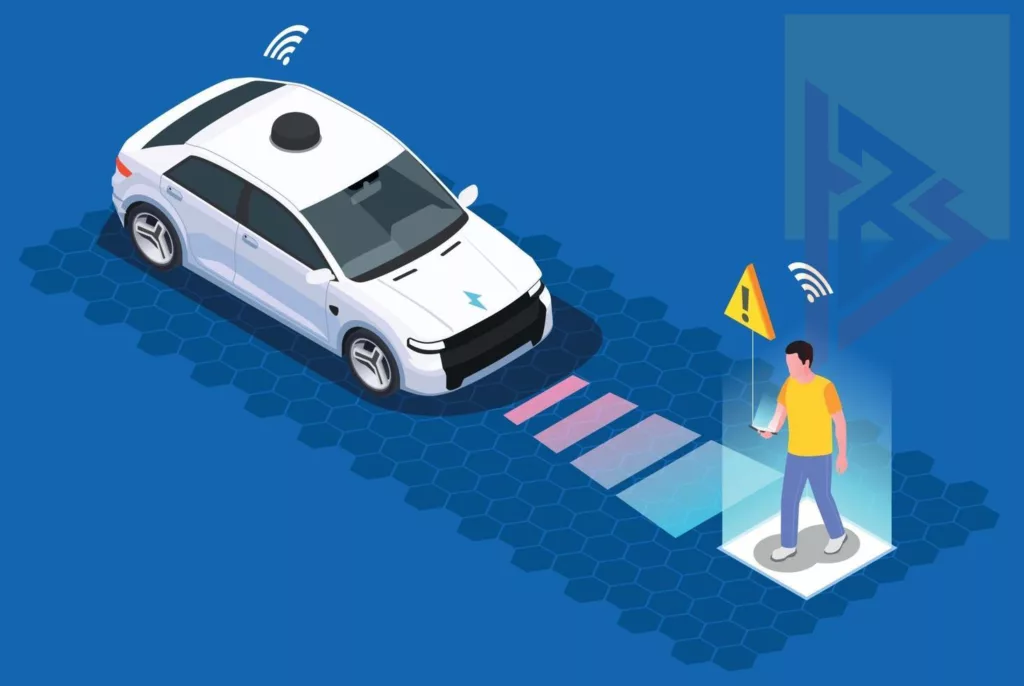 Examples:
EcoG: From its US and German bases, EcoG operates. The company builds a charging system and operating platform for electric vehicles based on the Internet of Things. In addition to offering manufacturers tools for maintaining and developing EV charging infrastructures, the startup also offers scalability, simplicity, and fast development. The chargers can also include microservices and services to enhance profitability. The solution is also compatible with any electric vehicle charger.
KonnectShift: An IoT company in Canada, ConnectShift, offers solutions for fleet and asset management through IoT. Konnect-GSO1, an electronic logging device tracking the vehicle's health automatically, is complemented by the startup. We can plan and create advanced analytics that enable real-time dispatching to track the vehicles, fuel, driving, and maintenance thereby reducing downtime, and developing applications for driver management.
6. Cloud Computing Models/ Hybrid Computing Models
There are enormous amounts of collective innovations in the automotive industry pertaining to data pipelines, data capacity, computing power, and analytics algorithms, as well as AI.
In order to address the new computing requirements of automotive companies, implement Cloud and hybrid computing models by providing storage-intensive and computational-intensive workloads with instant access to enhance capacity. Car companies are partnering with cloud providers to bring appropriate innovation to these areas, and the cloud providers are funding significant R&D resources for these areas specifically.
Examples:
Tesla: Its integration with the Tesla Cloud makes it an ideal example of a modern-era vehicle. Through the cloud, a driver can overcome minor problems without having to exert physical effort.
BMW: By integrating their BMW CarData network with IBM cloud, BMW has integrated with the automobile brand. Cloud-based services enable drivers to tackle issues in an individualized manner.
7. AR/VR Solutions
These are specifically for new employees who can use the AR/VR model for learning and showcasing virtual products to customers. With the assistance of 3D printed models, the process allows fast prototyping. It accelerated the phases of testing and prototyping. As a second advantage, it allows the manufacturers to custom print spare parts that meet their requirements. The additive manufacturing of composites results in lighter, stronger, and more durable automotive parts.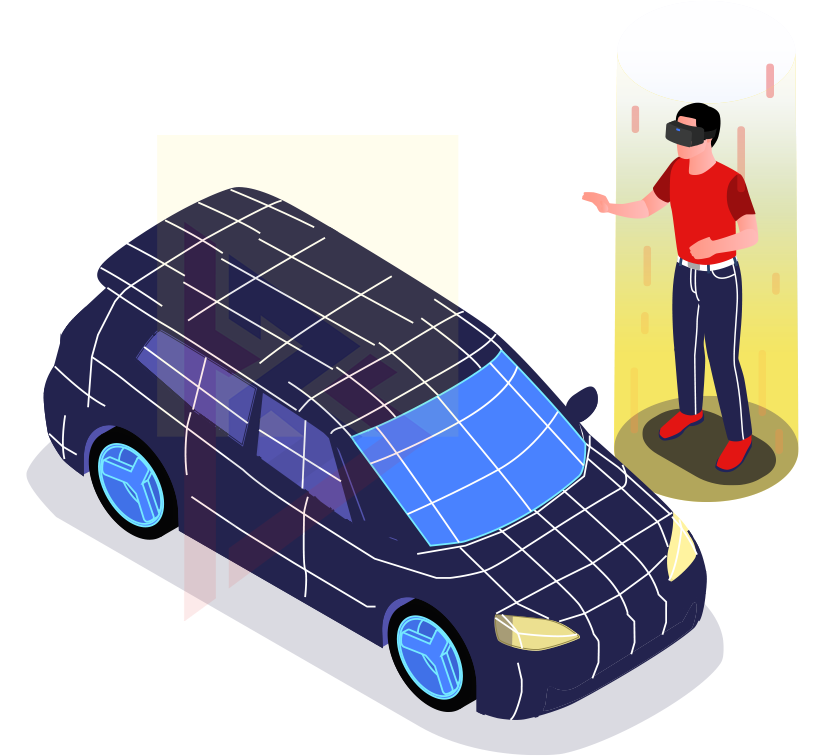 Examples:
BMW: Using an augmented dashboard, BMW allows customers to test-drive a specific car model with the minutest customization of its colors and settings in real time.
Toyota: The TeenDrive365 is a virtual reality driving simulator developed by Toyota. More specifically, this stimulator allows the user to experience driving in virtual reality before getting behind the wheel. Further, it features 3D graphics, realistic noises, full simulators, as well as animated traffic. TeenDrive365 teaches users how to drive attentively to avoid any hurdles or distractions.
8. Vehicle-to-Vehicle Communication
Innovating brands like these can reduce traffic, sudden fatalities, and severe vehicle accidents. V2V innovation transmits a signal directly to a specific vehicle from the other vehicles in the route. This is going to be the most sought Automotive Industry Trend which will really advance the entire automobile industry.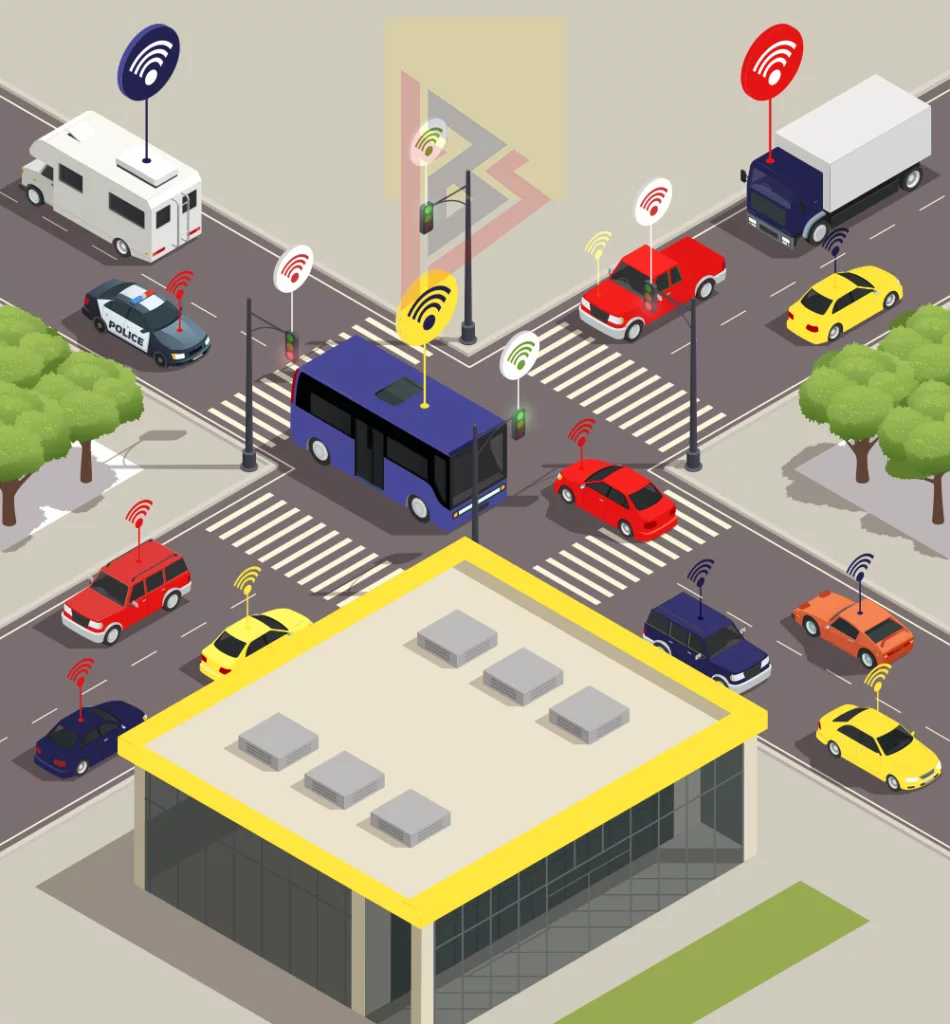 Examples:
Chorus Mobility: In addition to developing applications using blockchains for enhanced V2V communication, Chorus Mobility is a startup based in the USA. Exchange of Information and data between Autonomous Vehicles takes place using these applications. Finally, the information involves factors like traffic conditions, road conditions, weather conditions, etc.
Flexibility: Flexibility develops and produces close-range, vehicle-to-vehicle communication solutions known as Flexroad. A vehicle with this system installed can interact with other vehicles in a limited range. So that they can prevent collisions and risks, these vehicles communicate with each other.
9. Smart Factory
To manufacture cars in a standardized, efficient, and error-free manner at a variety of locations around the world, a smart factory is crucial. In robotic process automation common technologies for use are automation, modeling, and digitization to help stabilize and customize manufacturing processes. Digital factories can generate great business advantages in addition to automation and robotics in the manufacturing industry.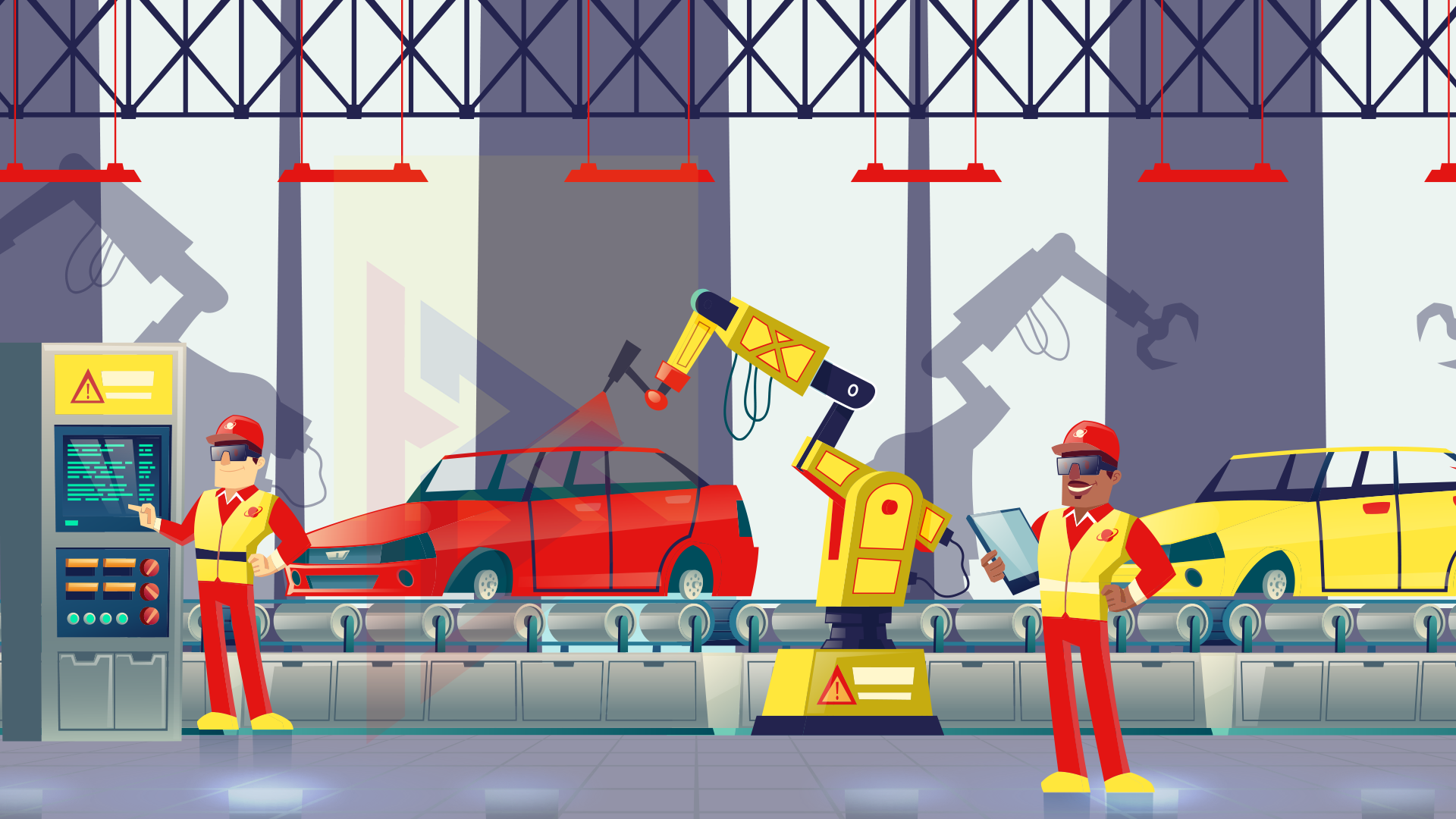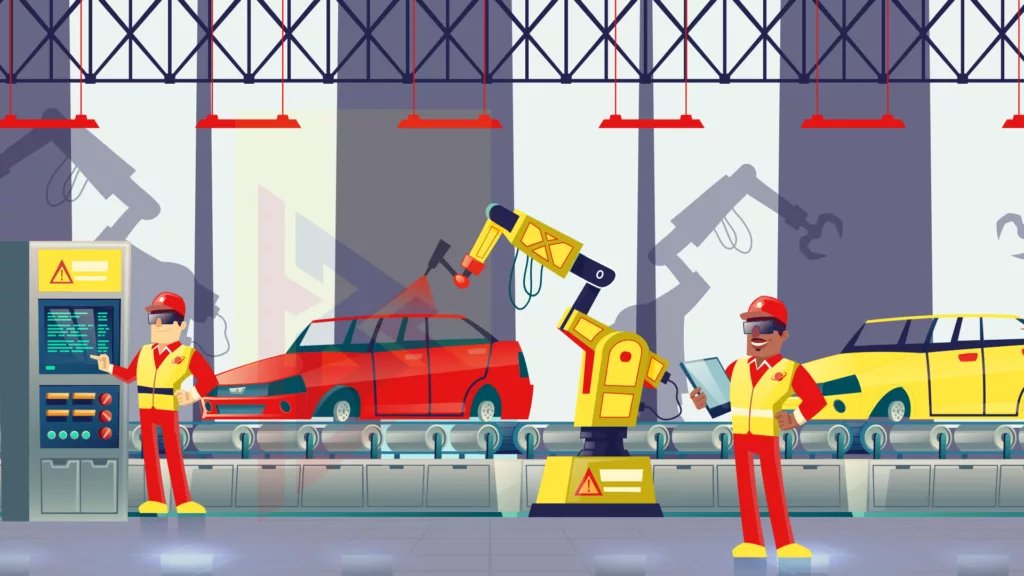 Examples:
Mercedes-Benz: Using data analytics, the company utilizes virtual production tools in order to quickly learn and optimize its production processes.
Audi: Audi utilizes its digital factory in Mexico along with strategy, talent robots, and integrated systems in order to boost productivity by more than 30%.
10. Electrification
As fossil fuel reserves are rapidly on the verge of depletion and the environment is harmed by their use, we need to switch to electric vehicles. This means EVs. In order for EVs to become more widely adopted, the industry must solve problems such as Fleet electrification, battery capacity, unreliable charging infrastructure, high costs, and a need to fuel clean energy grids. For Automotive Industry Trends, this is really going to pave the way for a brighter future.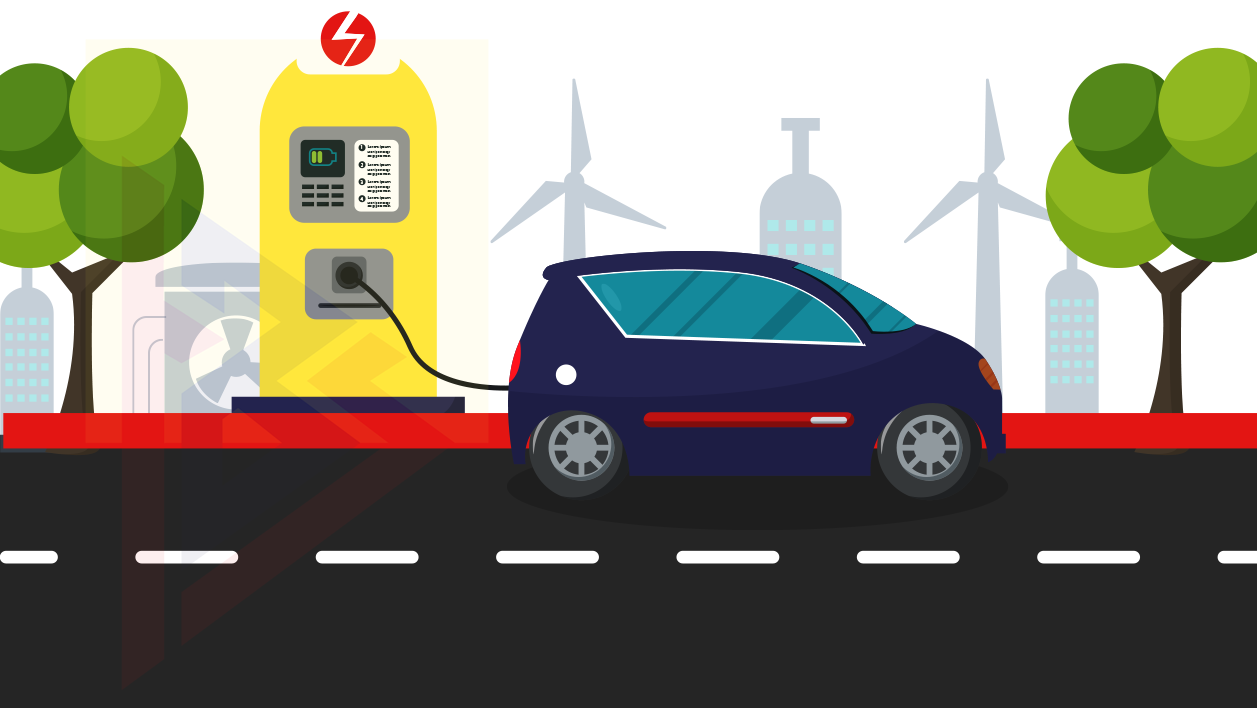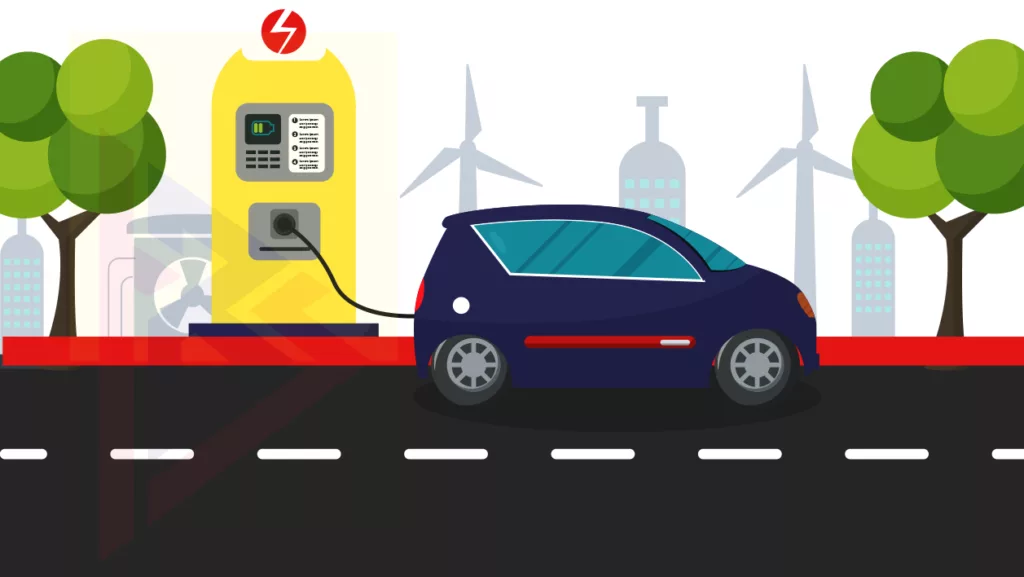 Examples:
Lordstown Motors: The startup Lordstown Motors produces electric pickup trucks in the US. As a well-built truck, the EnduranceTM has very few parts compared to traditional commercial vehicles. Consequently, maintenance is extremely simple. With four-wheel drive and a single charge, this vehicle can cover distances of over 250 miles.
ChargeX: EV charging solutions are provided by German startup ChargeX. Charge stations are getting integrated into parking spaces. An easy-to-install startup platform, Aqueduct comes with four charging modules that use 22 kW of power. It is also capable of providing accurate monthly reports using the Type2 charging cable. Furthermore, it automatically handles the charging speed and indicates the power requirements for each vehicle.
Conclusion
This report only scratches the surface of the Automotive Industry Trends we identified during our in-depth research on Automotive Industry Trends and startups. Auto sensors, robotics, and hybrid vehicles are a few examples of how we'll see a revolution in the sector over the next few years. Gaining a competitive advantage begins with identifying new opportunities and emerging technologies as soon as possible. You can work with us to quickly and efficiently identify relevant technologies for your company.