How to Migrate Your E-commerce Store from Magento to Shopify?
Migrating your e-commerce store from Magento to Shopify is comparable to relocating your home, which requires appropriate planning in order to carry all of your belongings without damage. Are you curious about the possibility to Migrate from Magento to Shopify? Indeed, it is! Since Magento has long been the de facto standard for conducting business, organizations are considering making the huge switch to Shopify, which offers flexible functionality and a user-friendly design.
Prior to proceeding, it is critical to evaluate a variety of factors. Today, we're here to address all of your burning questions on How to Migrate Your E-commerce Store from Magento to Shopify with this guide. Without further ado, let's dive into the intricacies of migrating Magento to Shopify.
Read here if you are keen to know how to migrate from ASP.NET to ASP. Core
Why do you Need to Migrate from Magento to Shopify?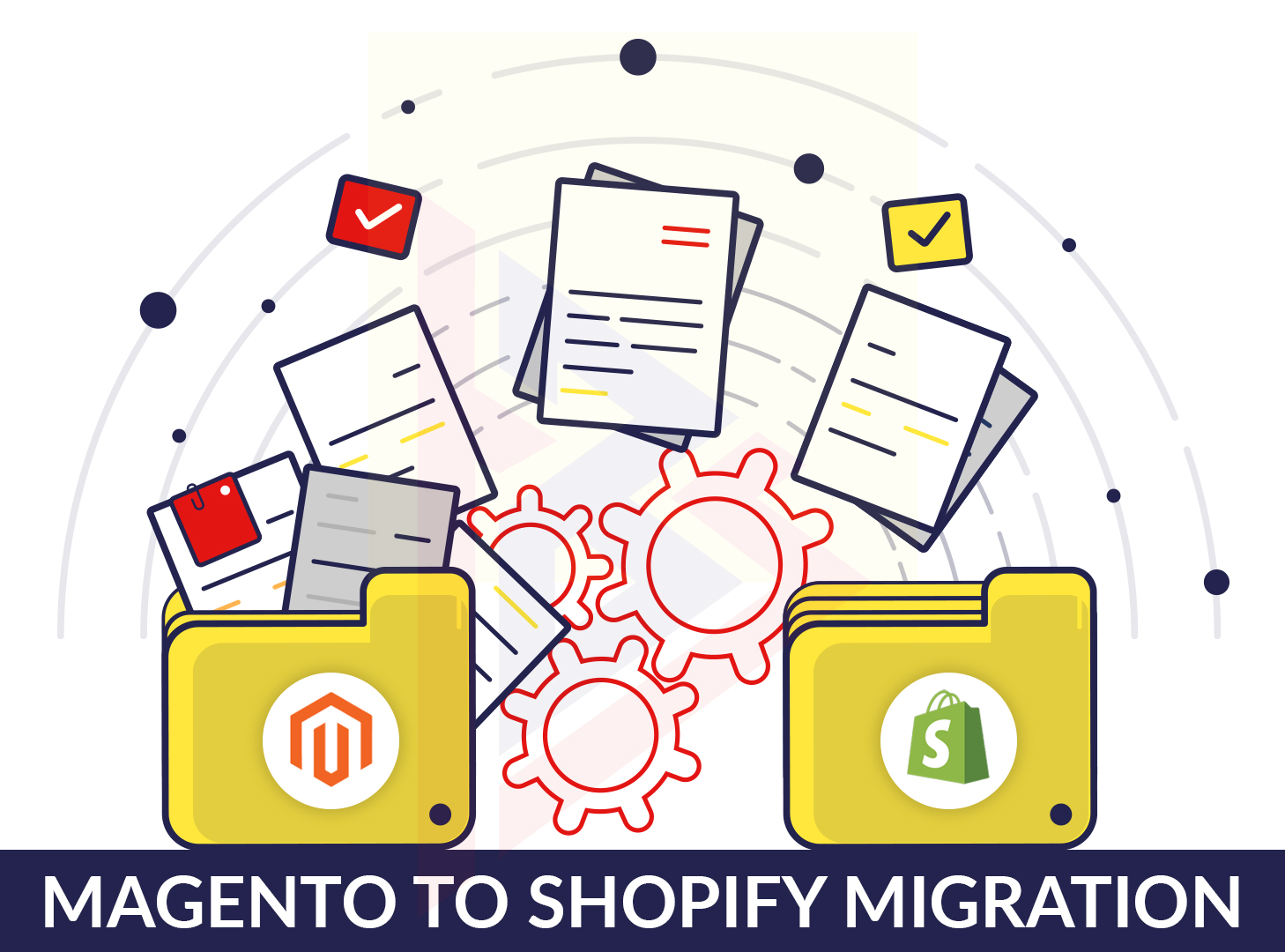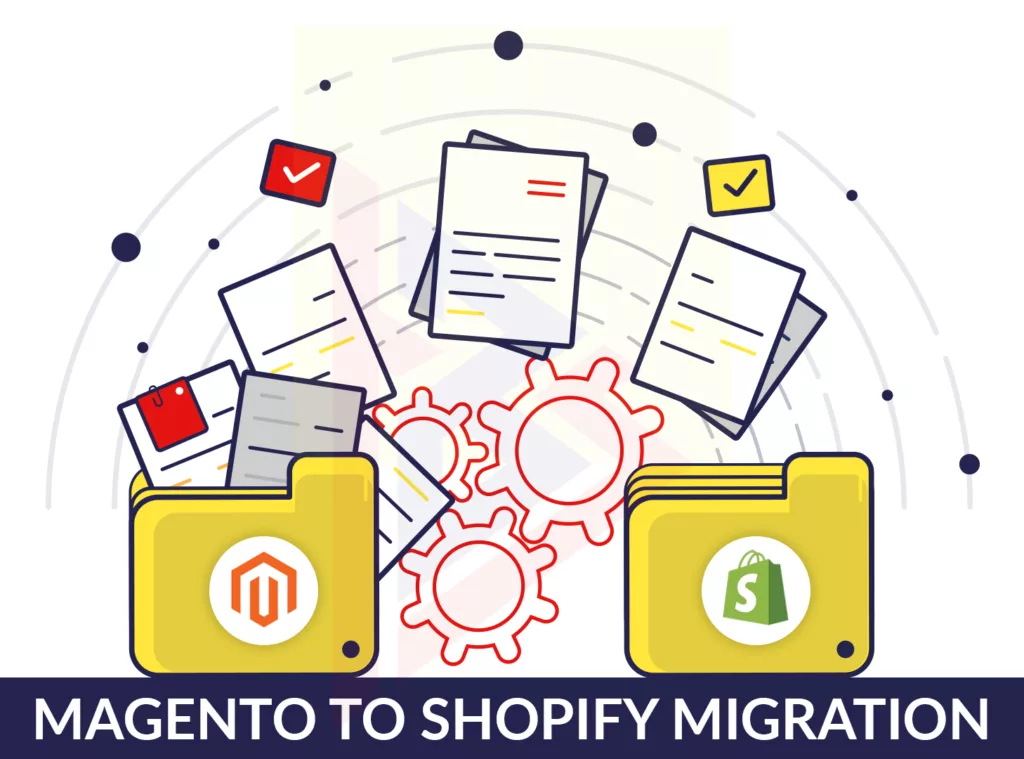 Are you the proprietor of an e-commerce business? Or are you considering starting one? Whether you opt to hire experts or make the change on your own, the outcomes will be beneficial. The following are some reasons why a Magento to Shopify migration would be excellent. Take a peek –
Shopify's major objective is to assist small and large businesses in properly managing their online enterprises. Thus, switching to Shopify from another platform, particularly Magento, will result in a simple interface and flexible functionality.
Second, moving to Shopify can assist your online store by providing a slew of perks. After making the conversion to Shopify, you'll be able to access your online business with minimum work and at a cheaper cost, freeing up significant funds for greater use.
Another key problem is the security and storage of any internet business. In comparison to other platforms, Shopify has superior security systems. Apart from this, there are a plethora of apps, add-ons, and other features that will blow your mind.
Read about the Front End Development Trends 2021, here in the article.
Who should prefer Shopify over Magento?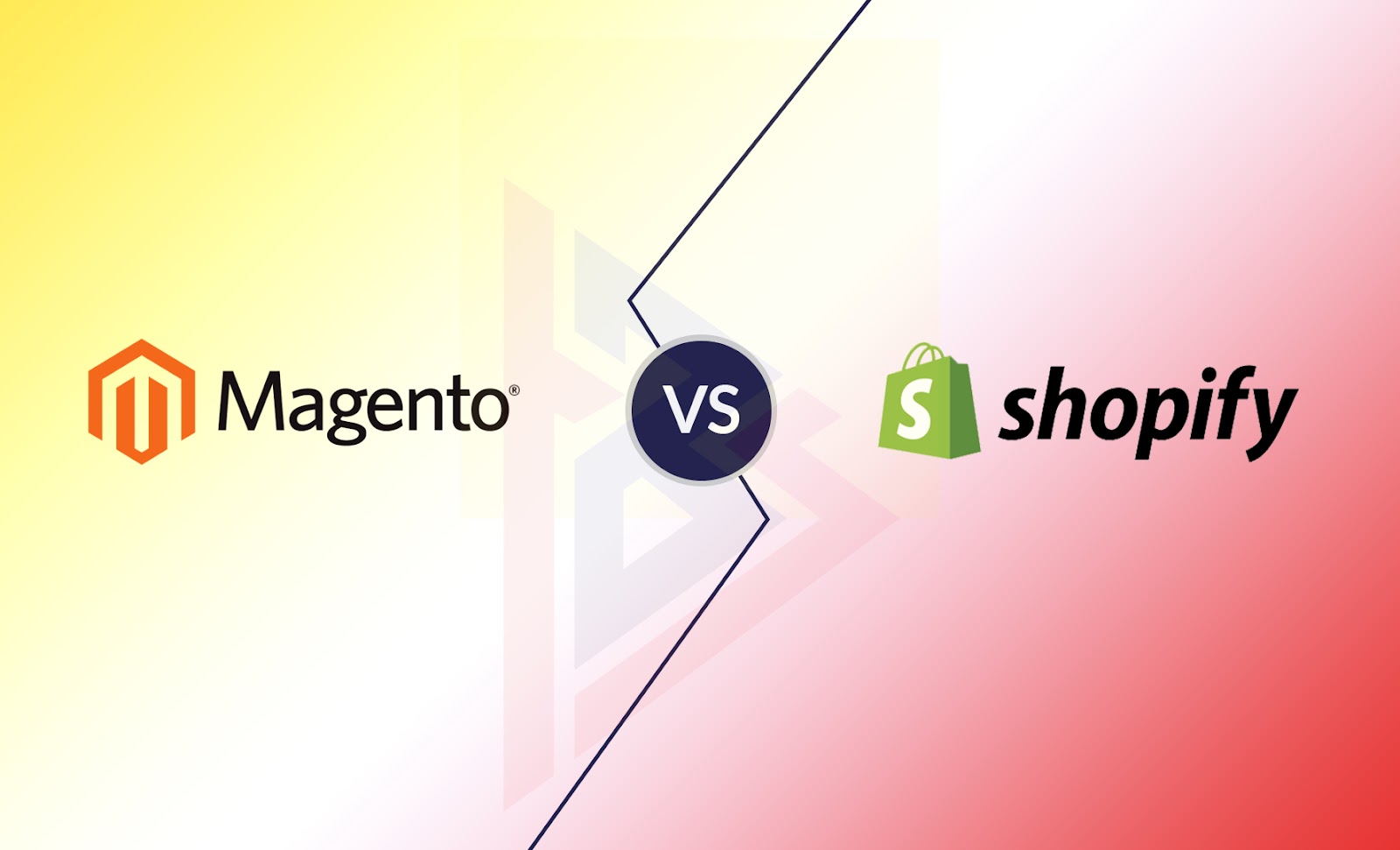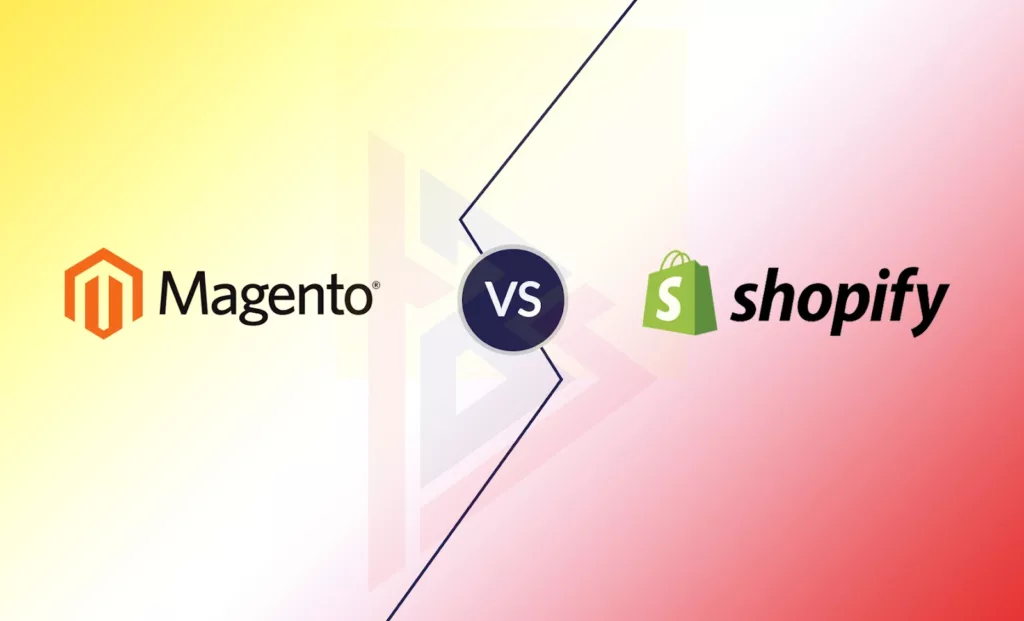 The multipurpose nature of Shopify makes it an ideal solution for the following:–
Small Businesses– Shopify is reasonably priced in comparison to other platforms. Consequently, small businesses with limited resources are able to use Shopify.
Non-Techies– Those who are not tech-savvy can still use Shopify because it is easy to set up and manage.
Growing Businesses– Shopify is an ideal choice for businesses looking to grow.
Brick and Mortar Stores– It is an ideal choice for brick-and-mortar store owners as Shopify's offline software can easily be integrated with the store's existing operations.
What data can be migrated from Magento to Shopify?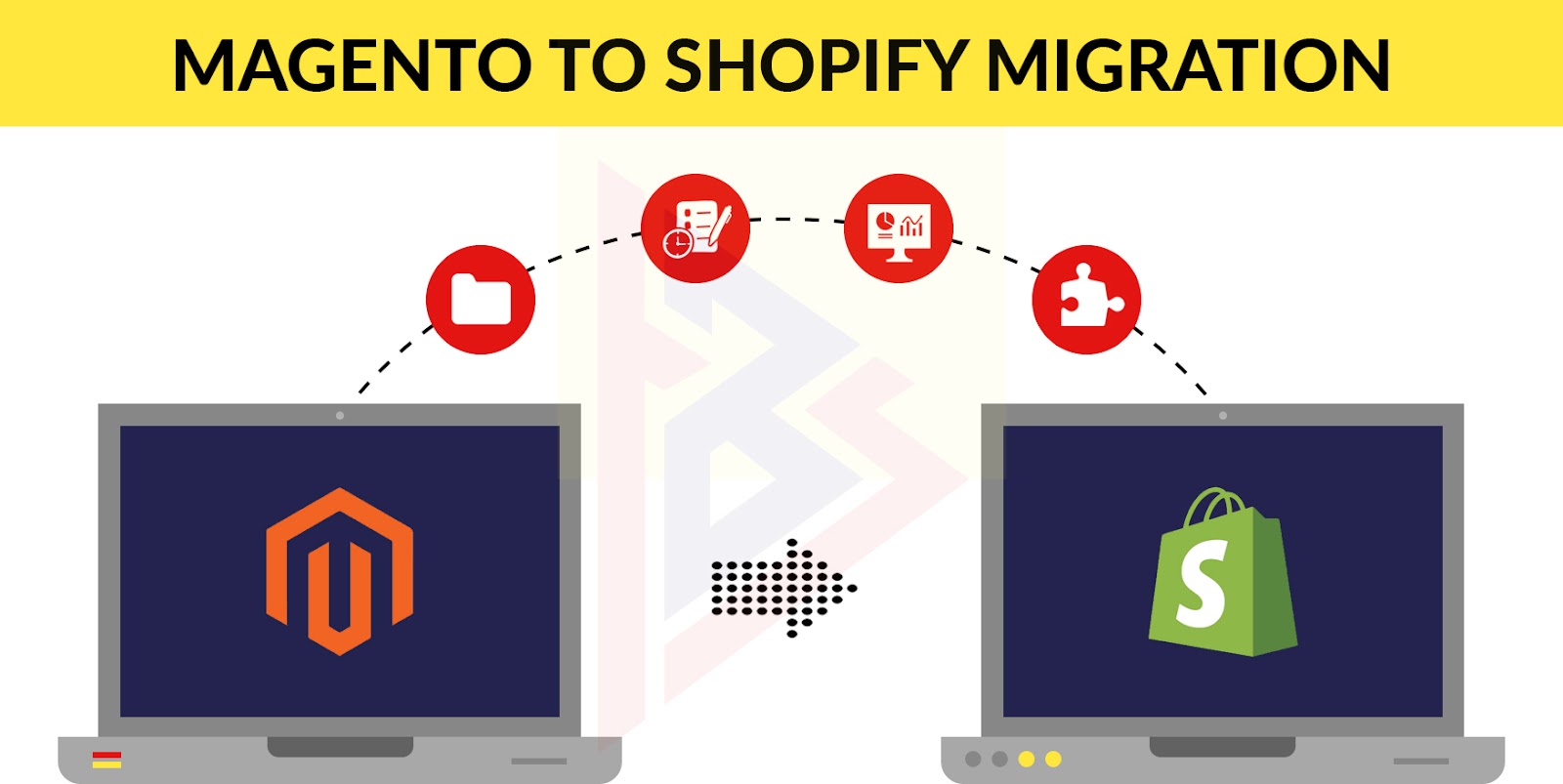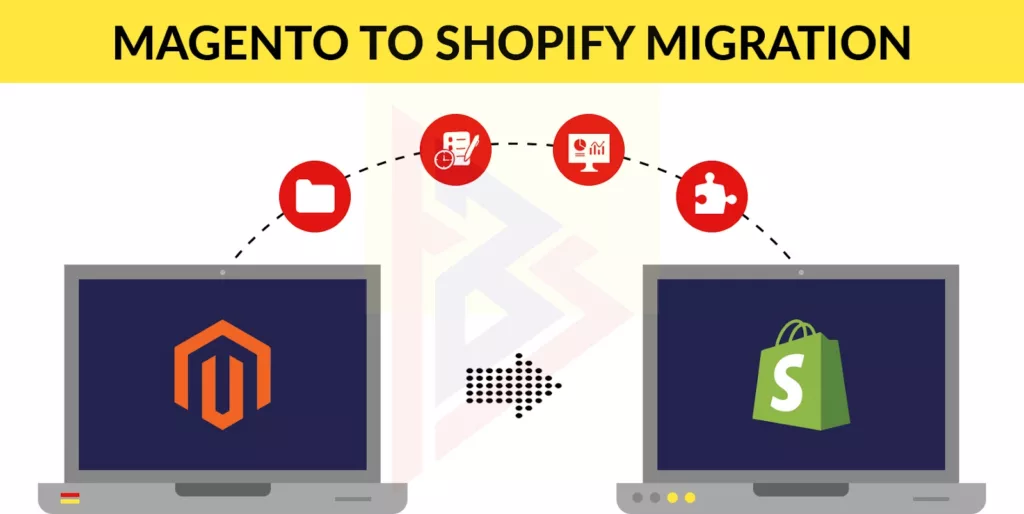 Data can be easily transferred from Magento to Shopify without any loss –
Product categories and products– Included with data for products are names, images, prices, SKUs, full descriptions, status, manufacturers, special prices, meta descriptions, meta descriptions, base images, URLs, meta titles, variants, and weight.
Product's visuals– The product's dimensions, shape, and color are among its details.
Data of orders– Amount paid, dates of payment, customer data ID, products purchased, status of order, quantity, price, subtotal, tax, shipping, discount, total price, comments, customer name, billing address, and shipping address.
Static page content– homepage, contact page, blog, etc.
Images– The main page and the content in between.
Integrations– Information about customers, such as names, phone numbers, email addresses, and locations.
Benefits– Discounts, coupons, etc.
Business performance can be improved by considering other factors as well as data. The absence of these factors can lead to lower customer traffic, brand image, and conversion rates.
Learn about the difference between .NET Core and .NET Framework here
The following is a long list –
SEO
SEO has become a buzzword in internet businesses since it is critical for increasing your brand's visibility to your customers. Therefore, if you want to maintain your brand's position or SEO traffic during the Magento to Shopify migration, make sure you set up 301 redirects from the former website pages to the new ones.


Graphic content
The graphic content, which includes blogs, product descriptions, and non-database pages, does not remain visible on the surface. The material contains links to these photographs. While migrating, replace the links to these images with proper codes.
Old content
While migrating your content from the previous platform, there are tags that need to be deleted. However, it is not always necessary for it to look well on the platform. As a result, you must make proper planning for resolving this issue prior to introducing the store's new design.
Static source collection
While migrating your e-commerce store from Magento to Shopify, static source collections are transferred to the automated collection. To avoid manual transfer, ensure that you are utilizing the directory management tool to its full potential.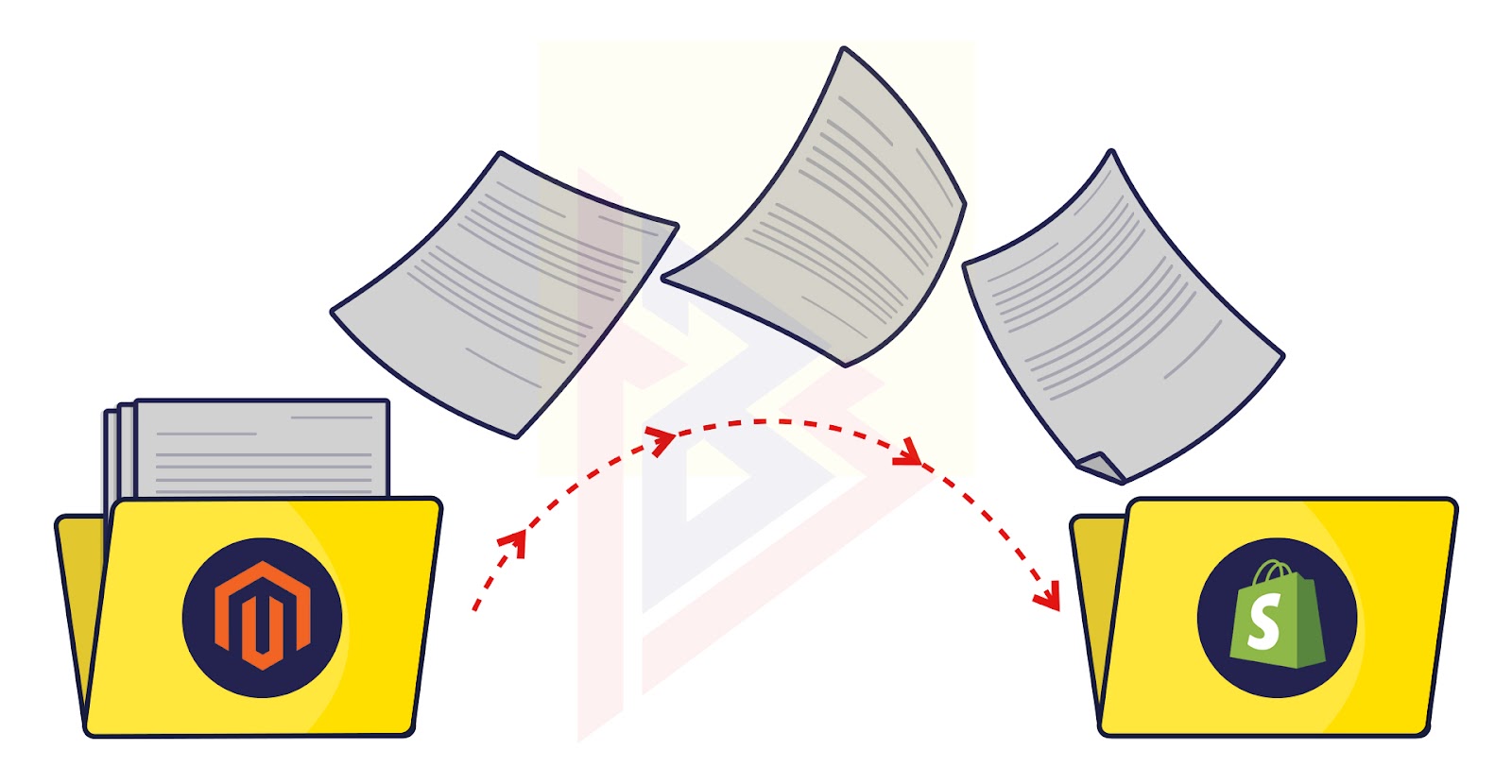 Integration and automation
Integrations and automation help you reduce your business's overall operational costs. Include these when moving your e-commerce firm, as they may cause difficulties in processing orders, creating marketing campaigns, and managing balances.
How to switch your Magento E-commerce store to Shopify
The following steps will outline the processes necessary to successfully migrate your e-commerce store from Magento to Shopify. It is often advisable to hire experts to manage the entire migration process in order to minimize manual errors, as they are capable of executing the proper migration strategy using the appropriate tools.
You can migrate your Shopify store from Magento using these steps –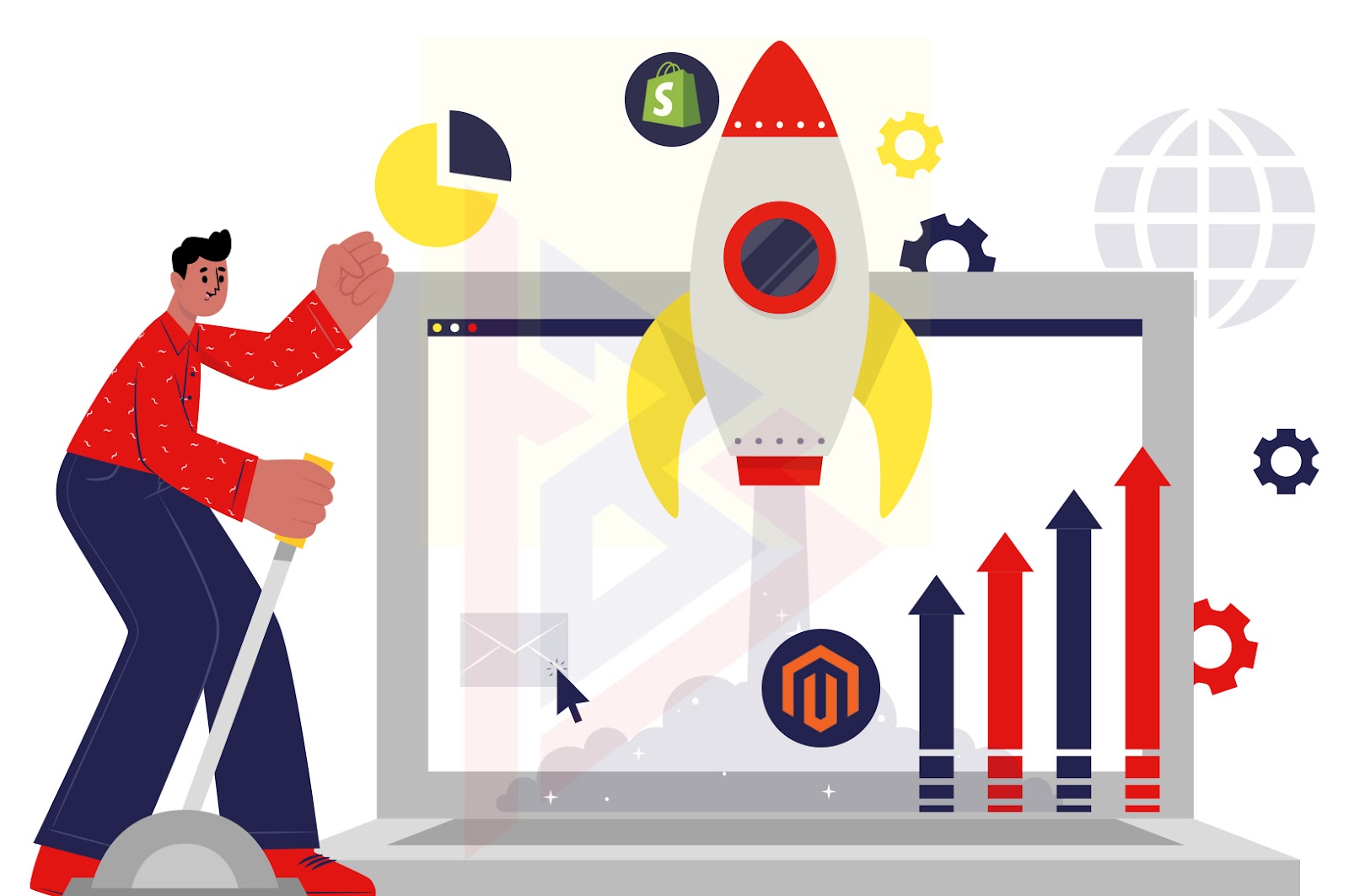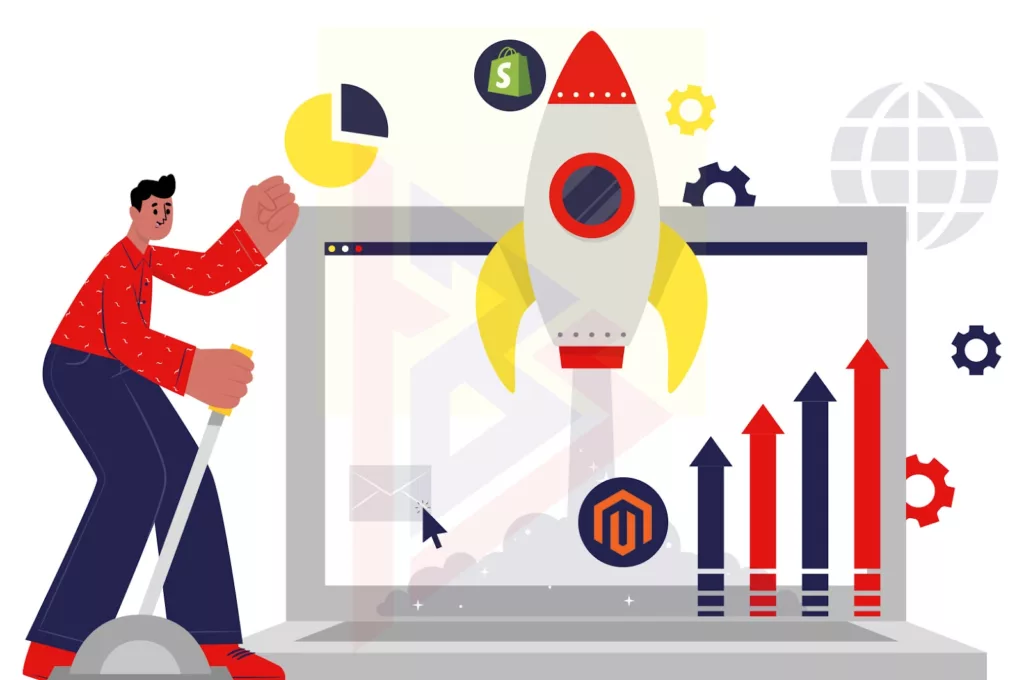 1. Create a backup of your Magento store
Prior to beginning the migration process, the most critical step is to generate a backup of your Magento store in order to safely store all of the data. What happens if the migration fails and you lose all data pertaining to your client, payment information, or product? Create a backup to avoid similar problems!
Follow these instructions to create a backup of your Magento store. –
Click the 'System' button in the Admin sidebar, then 'Tools' > 'Backups'. Select a backup type from this menu. You can choose from three different types. Choose from –

System backup
Database and Media Backup
Database Backup
2. Set up your Shopify account
The next critical step in transferring your Magento e-commerce business to Shopify is setting up your Shopify account without additional fees or modules and activating it. When you visit Shopify, you may begin by clicking on the "Start free trial" button to spend the first 14 days researching and testing the platform for free. That's quite cool, isn't it?
This trial period enables you to familiarise yourself with Shopify and its capabilities prior to making significant commitments. However, once the trial time expires, you will be asked to sign up for the premium plan in order to continue receiving services. Here are three major pricing plans from which you can choose based on your need.


Basic Shopify ($29/month)
Shopify ($79/month)
Advanced Shopify ($299/month)
3. Download the store import app
Shopify's app includes hundreds of thousands of intriguing applications, but how can you know which ones are right for you? Here are some app options that will assist you in moving more seamlessly –
Importing stores
Import from multiple channels
Editor of Bulk Products at Ablestar
You may effortlessly move your customers' data, items, and other details from Magento to Shopify by downloading these apps.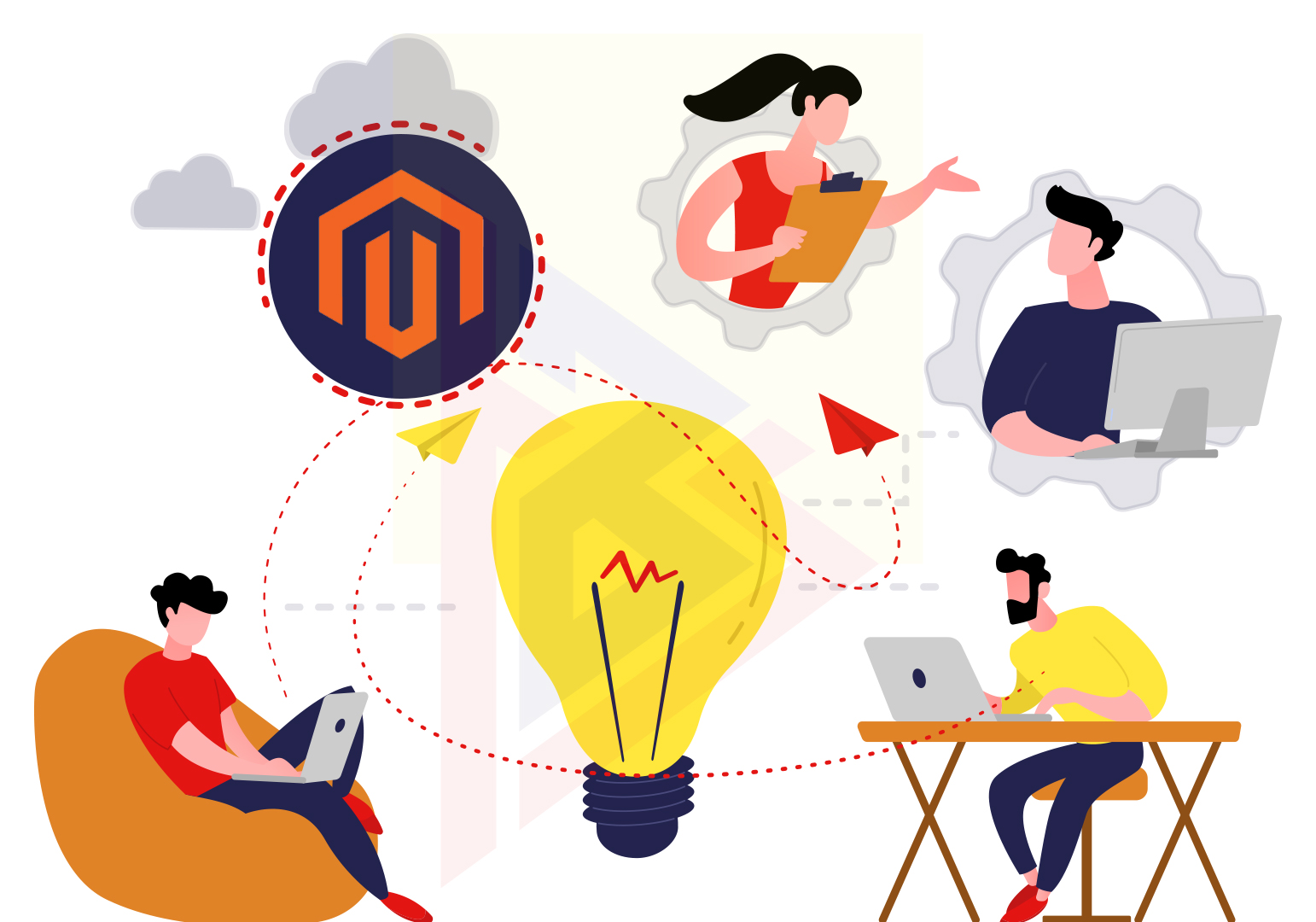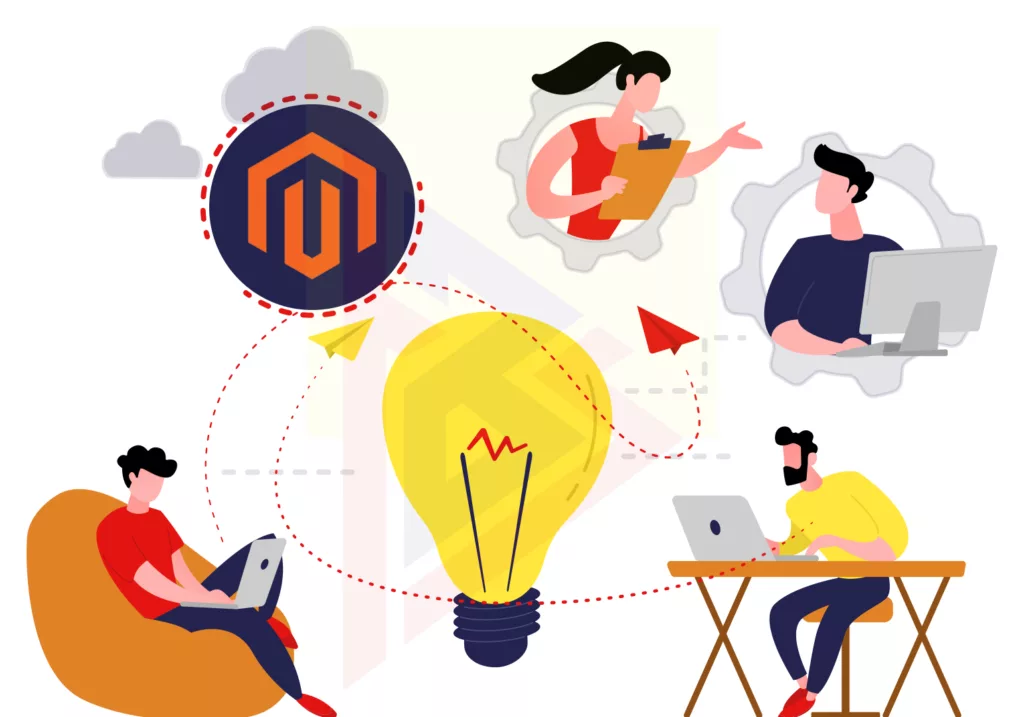 4. Export data from Magento to Shopify
Your data is now prepared for relocation to your new home. Excited? Simply follow the steps below and begin packing your boxes.
To export data from the Admin sidebar, navigate to System > Data Transfer > Export.
When you enter the Export Settings area, choose one of the following Entity Types. –
Customers' Primary File
Customers' Addresses
Customers' Product
If you're using programs such as Transporter, select the XML or CSV export file format as the default. 
If you want to enclose any character in the data, choose the Fields Enclosure checkbox.
Continue by scrolling down and tapping on the continue button. Now, all exported data files will appear in the /var/export folder.
5. Import the data to Shopify
Step 5 prepares all of your data for import into Shopify. Complete the procedure by following the steps outlined below –
Navigate to the Shopify administration page and select Apps > Import Store.
Select Other as your platform type, as Magento is not included in the selection.
In the uploaded files, click on add files and then on Exported Files.
Simply double-click the CVS file that you exported from your Magento store.
To complete the process, click Continue Import followed by Import.
6. Review import data
Upon importing data, it is necessary to review everything to ensure that the entire data set is imported. Here are some common issues encountered during this process:
Import of data with minor defects – Hand edit all imported information by checking the import summary in order to eliminate defects.
Certain customer or product data did not import successfully – If not all customer or product data loaded successfully, manually add them using the customers or products import option.
Bundled products did not import – Use Shopify's product bundling application or manually add these.
Unpublished in Shopify but successfully imported — If the products remain unpublished in Shopify while being successfully imported, modify the product availability in Shopify.
The imported records are tagged — The tags are added by the Store Importer as import__.
No product versions are imported – Manually add product variants such as weight, color, and size if they are absent.
Dimensions are missing from imported products – manually add dimensions to product descriptions to resolve this.
Products were imported in their entirety but were not published — Install a Shopify app dedicated to digitally selling products.
7. Revamp your new Shopify store
Now is the time to enjoy your e-commerce store! After transferring and verifying all data, it's time to build and configure your Shopify store. There are numerous visual cues and pre-made themes available to help you create a visually appealing experience for each landing on your page.
Learn about Why ASP.Net is best for Microservices.
Conclusion
Your Magento to Shopify migration does not have to be difficult or complicated; however, it does take professional knowledge and procedures to finish the process and satisfy the requirements without making errors that could cost you your site. And we are aware of how infuriating it will be. Until now, you're probably familiar with the process of migrating your Magento e-commerce store to Shopify. The actions outlined above are simple and basic; so, they can be followed completely. And we guarantee that your journey to Migrate from Magento to Shopify will be incredibly pleasant.
If you're ready to significantly develop your small-scale e-commerce firm by migrating to a better platform, now is the time to do so. Therefore, if you're ready to increase your e-commerce business without sacrificing your mental health, why not contact TechnoBrains, a renowned web development company? On our website, we strive to publish credible content that is data-driven and of value to our users. As an e-commerce website development company, we provide mobile application development, e-commerce website development, and Shopify website development services.
We cater to all SMEs, MSMEs, large organizations, conglomerates, and multinational corporations with any requirement for mobile apps, websites, content management systems, eCommerce platforms, or any specialized software services located anywhere in the world. Visit our website today to learn more!